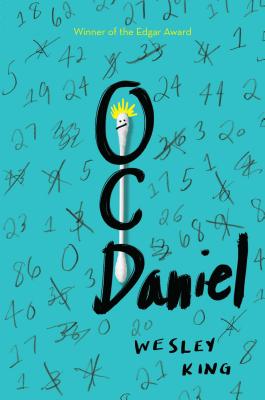 OCDaniel
Hardcover

* Individual store prices may vary.
Other Editions of This Title:
Digital Audiobook (9/18/2018)
Paperback (4/11/2017)
Prebound (4/11/2017)
Description
EDGAR AWARD WINNER FOR BEST MYSTERY
BANK STREET BEST BOOK OF THE YEAR
SILVER BIRCH AWARD WINNER

"Complex and satisfying. Written from Daniel's point of view, this perceptive first-person narrative is sometimes painful, sometimes amusing, and always rewarding." —Booklist (starred review)

From the author of Incredible Space Raiders from Space! comes a brand-new coming-of-age story about a boy whose life revolves around hiding his obsessive compulsive disorder—until he gets a mysterious note that changes everything.

Daniel is the back-up punter for the Erie Hills Elephants. Which really means he's the water boy. He spends football practice perfectly arranging water cups—and hoping no one notices. Actually, he spends most of his time hoping no one notices his strange habits—he calls them Zaps: avoiding writing the number four, for example, or flipping a light switch on and off dozens of times over. He hopes no one notices that he's crazy, especially his best friend Max, and Raya, the prettiest girl in school. His life gets weirder when another girl at school, who is unkindly nicknamed Psycho Sara, notices him for the first time. She doesn't just notice him: she seems to peer through him.

Then Daniel gets a note: "I need your help," it says, signed, Fellow Star child—whatever that means. And suddenly Daniel, a total no one at school, is swept up in a mystery that might change everything for him.

With great voice and grand adventure, this book is about feeling different and finding those who understand.
Praise For OCDaniel…
King (The Incredible Space Raiders from Space!) offers a candid and memorable account of life with OCD, inspired by his own experience with the anxiety disorder. Thirteen-year-old Daniel Leigh, a wryly funny narrator, has a popular best friend, a crush on a classmate, and a spot on the football team as backup kicker. But he also has a secret that is making him miserable: he is plagued by "Zaps," his name for the triggers—such as an unlucky number or the wrong number of steps—that create a flood of horrible feelings that can only be quelled by certain actions such as flicking a light switch repeatedly. Writing is an outlet for Daniel, and excerpts from the novel he's working on are interspersed throughout. When Sara, a selectively mute school outcast, suddenly begins to speak to him, she draws him into a potential murder mystery and becomes the first person to see and understand his struggle. Daniel's pain and confusion at what he comes to realize is OCD is memorably portrayed in this moving story of self-acceptance
— Publishers Weekly

In a departure fromhis previous book, The Incredible Space Raiders from Space (2015), King offersthe story of an "eccentric thirteen-year-old social oddity" whodesperately wants to be normal. Exhausted by the excruciating nightly Routinethat keeps him from sleep for hours and his daily efforts to conceal hisobsession with numbers, Daniel Leigh believes he is crazy. Otherwise, Daniel isa typical eighth-grade white boy. He's desperate to fit in, to make his fatherproud, and to win the affections of the most beautiful and popular girl inschool, in this case Raya Singh. When Daniel (backup kicker and water boy) isplucked from the sidelines of the football field, he's given a shot at makingthose dreams come true. Then something strange happens. Sara Melvern, whohasn't spoken once in the eight years he's known her, invites him to help hersolve the mystery of her father's disappearance, and Daniel realizes thatsometimes dreams aren't all they're cracked up to be. Daniel's narration ischarming, funny, and occasionally heartbreaking, and a secondary cast ofwell-developed characters keeps the plot moving. . . . Part coming-of-age, part mystery, and part middle-grade social-problem novel,Daniel's story will resonate with a broad spectrum of readers. (Fiction. 8-13)
— Kirkus Reviews

As the backup kicker on his football team, 13-year-old Daniel spends his time watching from the bench. Socially, he is an onlooker as well. But soon Sara, an ostracized girl at school, breaks through his shyness by demanding help with investigating her father's possible murder. It seems heartless to refuse, though logically (and later, legally) he should. As tension mounts, his anxiety level rises, and "The Routine" he is compelled to follow at bedtime grows longer and more burdensome. Daniel knows that he is different, but he suffers alone and in silence. It's a revelation when Sara offers him information on obsessive compulsive disorder and a path toward coping with it. A brief, appended author's note dispels common misconceptions about OCD and calls Daniel "an almost autobiographical representation of myself at that age." King creates convincing characters and writes engaging dialogue, and whether or not readers identify fully with Daniel, they will see parts of themselves in this vulnerable protagonist. Clues dropped in the first part of the book may lead readers to expect a conventional sort of happy ending, but the story's conclusion is more complex and satisfying. Written from Daniel's point of view, this perceptive firstperson narrative is sometimes painful, sometimes amusing, and always rewarding.
— Booklist, STARRED REVIEW
Simon & Schuster/Paula Wiseman Books, 9781481455312, 304pp.
Publication Date: April 12, 2016
About the Author
Wesley King is the author of over a dozen novels for young readers. His debut, OCDaniel, is an Edgar Award winner, a Canada Silver Birch Award winner, a Bank Street Best Book of the Year, and received a starred review from Booklist. The companion novel, Sara and the Search for Normal, received a starred review from School Library Journal and was the recipient of the Violet Downey Book Award and the Ruth and Sylvia Schwartz Children's Book Award. King has also written The Incredible Space Raiders from Space!, A World Below, Butt Sandwich & Tree, and Kobe Bryant's New York Times bestselling Wizenard series. He lives in Newfoundland.
or
Not Currently Available for Direct Purchase