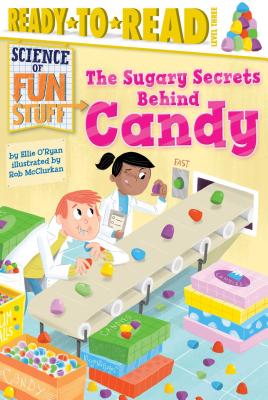 The Sugary Secrets Behind Candy (Science of Fun Stuff) (Paperback)
Simon Spotlight, 9781481456265, 48pp.
Publication Date: December 22, 2015
Other Editions of This Title:
Hardcover (12/22/2015)
* Individual store prices may vary.
Description
Learn the sugar, spice, and science behind your favorite candies in this fact-tastic nonfiction Level 3 Ready-to-Read, part of a series about the science of fun stuff!

Did you know there is a lot of science behind making candy? How about that "Red Hots" candies get their heat from a chemical called capsaicin—the same molecule that gives peppers their kick? And when you crunch on Wintergreen Lifesavers, they spark because you are making light with friction similar to the electricity in lightning: You might say you are making a miniature lightning storm in your mouth! Learn about these cool chemical reactions and much more as you become a Science of Fun Stuff Expert on candy!

Amaze your friends with all you've learned in this engaging, fact-filled Level 3 Ready-to-Read! A special section at the back of the book includes Common Core–vetted extras on subjects like social studies and math, and there's even a fun quiz so readers can test themselves to see what they've learned! Learning science has never been so much fun!
About the Author
Ellie O'Ryan loves chocolate almost as much as she loves writing books for kids. She is the author of more than 300 books for children and has a secret chocolate stash hidden in her office for late-night writing sessions. Ellie lives in North Carolina with her husband, two kids, three cats, and one dog.

Rob McClurkan is an illustrator and author whose imagination is fueled by a healthy dose of Saturday morning cartoons and Sunday funnies. He lives with his family just outside Atlanta, Georgia. To see more of Rob's work, visit SeeRobDraw.com.
Praise For The Sugary Secrets Behind Candy (Science of Fun Stuff)…
The Sugary Secrets Behind Candy by Ellie O' Ryan is a jewel for young readers. Who doesn't like candy? When I first leafed through this book, I was disappointed there weren't any experiments, references, or lists of websites. Instead it's a nonfiction reader perfect for a rainy afternoon.

That said, The Sugary Secrets Behind Candy sparks ideas for hands–on explorations. Chapter 1 discusses how taste buds detect sweets. Kids can map their tongues. A picture of a microscope on page 12 might inspire children to inspect candies with a hand lens to compare differences in crystal sizes among candies. The book discusses how to control the size of crystals through cooling on pages 16 and 17. Kids can use this information to make their own rock candy or use isomalt so popular on cooking shows. The book explains the underlying processes. I learned something about citric acid in Chapter 3. Did you know that Aspergillus produce citric acid? There are interesting international candies, a little history, and an odd bit—a Hershey time line. The Sugary Secrets Behind Candy is right on target. O'Ryan has successfully sugar–coated some sound science. I just know that when kids read about wintergreen candies making a spark or how Mentos make an explosion in soda, they will want to try it for themselves.
or
Not Currently Available for Direct Purchase