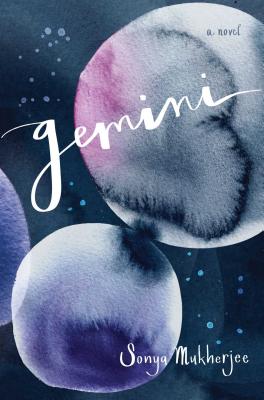 Gemini (Paperback)
Simon & Schuster Books for Young Readers, 9781481456784, 336pp.
Publication Date: July 25, 2017
Other Editions of This Title:
Hardcover (7/26/2016)
* Individual store prices may vary.
Description
In this "thought-provoking and engaging" (School Library Journal) debut novel, Sonya Mukherjee shares the story of sisters Clara and Hailey, conjoined twins who are learning what it means to be truly extraordinary.

Seventeen-year-old conjoined twins, Clara and Hailey, have lived in the same small town their entire lives—no one stares at them anymore. But there are cracks in their quiet existence and they're slowly becoming more apparent. Clara and Hailey are at a crossroads. Clara wants to stay close to home, avoid all attention, and study the night sky. Hailey wants to travel the world, learn from great artists, and dance with mysterious boys. As high school graduation approaches, each twin must untangle her dreams from her sister's, and figure out what it means to be her own person.

Told in alternating perspectives, this unconventional coming-of-age tale shows how dreams can break your heart—but the love between sisters can mend it.
About the Author
Sonya Mukherjee grew up in California sitting in trees, reading books, and writing stories in her head. She studied English and creative writing at Stanford and San Francisco State University, and went on to work as an editor for a variety of book publishers, magazines, and websites, from The Future of Children to Dirt Rider. Now she lives with her family in the San Francisco Bay Area, where she spends her time sitting in coffee shops, reading books, and writing stories on her laptop. Gemini is her first novel. Follow her on Twitter @SonyaMukherjee.
Praise For Gemini…
*"This debut novel is fascinating. . . . Gemini will satisfy curiosity about conjoined humans but goes far beyond that to explore issues of identity and relationships important to all teens."

*"While leavened with comfortable teen-literature tropes, this debut isn't high-concept-fueled candy floss. The twins' distance from "normal," all that circumscribes their conjoined world, is ever present, and the struggle to sustain their senses of self is visceral. . . . Readers who've wondered why some choose to live with a disability that might be "cured" will find plenty to ponder here. As developments in genetics reshape the medical landscape, these questions will only resonate further. Compelling and suspenseful from Page 1; Clara and Hailey pull readers into their unique world and don't let go."

"Thought provoking and engaging, this story of two girls finding their own unusual path to adulthood will pull readers in and give them a lot to think about."

"[T]his debut is a well-researched and particularly heartfelt account of a rare medical condition and the people it affects. Though they share a body, Clara and Hailey are two very different people with different dreams, and their fight for a normal life will resonate with many."

"Uplifting. . ."

"With her debut novel, Sonya Mukherjee sensitively envisions how two conjoined sisters grow through their high school years. . . .the intimacy of their relationship, the way they have learned to walk together, to sit and sleep together, is extraordinary. Nothing is easily resolved here."

"Beautifully written, raw and utterly unique, GEMINI is more than a story about conjoined twins….Mukherjee succeeds in marrying sincere characters and intense emotion with an articulate voice, producing a story that is unforgettable."

"Whether they're confronting their well-meaning parents, bickering with each other or flirting with their crushes, Clara and Hailey are unusual yet familiar and appealing protagonists. Readers--just like their friends--will move rapidly beyond voyeuristic curiosity to empathy and genuine liking for the girls."

"[R]efreshing and right on the mark as far as teenagers, life, and angst go. . . . a good one to put in the hands of teens who love realistic fiction. Mukherjee has written a great first book on a topic we don't often see in the teen fiction world."