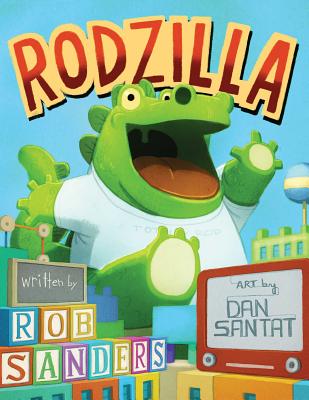 Rodzilla (Hardcover)
Margaret K. McElderry Books, 9781481457798, 48pp.
Publication Date: May 9, 2017
* Individual store prices may vary.
Description
This just in! There's a Rodzilla on the loose! Is he a monster…or just your typical toddler? Tune in for the full report in this riotous picture book from Rob Sanders and Caldecott Medalist Dan Santat.

Rodzilla is the mightiest toddler to ever roam the streets of the city. Marvel at the sight of his chubby monstrosity. Gaze at his toothless grin. Take a whiff of his…no, don't do that. Only a mother could love such a creature.

Rodzilla is taking over the city (that is really his playpen) and causing all sorts of chaos for its inhabitants (um, his parents). Can he be stopped before he toddles one step too far? Told as an action-packed news report, kids will love following Rodzilla on his mighty tear through the city, and ultimately back to his parents' arms. Because sometimes even monsters need a little help.
About the Author
Rob Sanders is a writer who teaches and a teacher who writes. Every day he goes to Mintz Elementary School in Brandon, Florida, to teach students about books and words and reading and writing. Then he heads back home to write fierce and funny picture books for kids. Rob likes to grow things, teach things, learn things, and read things. He's definitely an earthbound human, but he has high-flying ideas, hopes, and dreams. Nothing gets him soaring quite as much as hearing boys and girls say, "Read it again!" Visit Rob's website at RobSandersWrites.com.


Dan Santat is the Caldecott Medal–winning and New York Times bestselling author and illustrator of The Adventures of Beekle: The Unimaginary Friend, as well as the illustrator of many other picture books, including Crankenstein by Samantha Berger. Dan lives in Southern California with his wife, two kids, and various pets.
Praise For Rodzilla…
"Young listeners will enjoy the story's over-the-top humor, while slightly older kids will have fun matching the Megalopolis sites with Rod's toys. Give this to fans of Aaron Reynolds' Here Comes Destructosaurus!"
— Booklist

"Sanders's faux horror and Santat's exuberant, richly colored spreads pour on the mayhem. Don't read this aloud anywhere kids are expected to stay quiet."
— Publisher's Weekly

"Kids will gravitate to Santat's marvelously clever and animated illustrations...An engaging and humorous picture book for young children and their parents to share together."
— School Library Journal