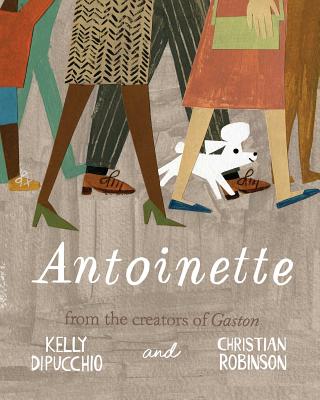 Antoinette (Gaston and Friends)
Hardcover

* Individual store prices may vary.
Description
A 2017 Parents' Choice Silver Honor Winner

"Fans of Gaston (2014) rejoice! Now it's Antoinette's turn to shine." —Booklist (starred review)
"Delightful…an action-packed romp." —Publishers Weekly (starred review)
"Three cheers for the winning Antoinette!" —Kirkus Reviews (starred review)

Meet Gaston's friend Antoinette!

Antoinette—a very special poodle—learns to follow her heart and be herself in this charming companion to Kelly DiPucchio and Christian Robinson's beloved Gaston.

Antoinette's three burly brothers each have a special talent. Rocky is clever. Ricky is fast! And Bruno is STRONG. Mrs. Bulldog reassures Antoinette that there is something extra special about her—but Antoinette is not so sure.

Then one day, while Antoinette plays in the park with her friend Gaston, Gaston's sister Ooh-La-La goes missing. Antoinette feels a tug in her heart and a twitch in her nose. She must find Ooh-La-La. She will not give up!

Can Antoinette rescue the puppy in peril—and discover what makes her extra special along the way?
Praise For Antoinette (Gaston and Friends)…
* "In a delightful sequel to 2014's Gaston, Gaston the bulldog's poodle counterpart, Antoinette, wonders what she has to offer.... an action-packed romp.... Robinson's Parisian spreads are full of retro verve, but he doesn't overlook the city's ordinary inhabitants—a garbage collector, a bubble blower in the park, a woman in a head scarf driving a car. DiPucchio excels in showing rather than telling, and it's clear that beneath Antoinette's fluffy exterior lies the heart of a hero."
— Publishers Weekly, November 2016, *STARRED REVIEW*

"Expressive and energetic, Robinson's acrylic illustrations are full of details.... DiPucchio brings a lighthearted, arch quality to her narration... this picture book is bound to have children rapt until the conclusion—and soon begging for another read. VERDICT: Sure to be a storytime hit, especially where Gaston is popular."
— School Library Journal, December 2016

* "Fans of Gaston (2014) rejoice! Now it's Antoinette's turn to shine...fun for repeated readings."
— Booklist, December 2016, *STARRED REVIEW*

* "The beloved puppies of Gaston (2014) are back, this time with Antoinette's story of self-discovery as she reveals that every dog has a gift to share.... Once again, DiPucchio and Robinson don't miss a comedic beat, creating a playful and funny tale full of warmth that deftly explores complex themes of belonging, self-worth, and purpose. Robinson's seemingly simple artwork belies his masterful ability to imbue his characters and the places they live with an authenticity and humanity that move readers beyond the surface page.... A reassuring tale that celebrates the uniqueness of each dog (or person) and the creation of a purposeful life. Three cheers for the winning Antoinette, who "could not—would not—give up!""
— Kirkus Reviews, December 2016, *STARRED REVIEW*

"It's a fact of family life that every child gets a reputation: Rocky is the clever one, Bruno is strong. But what about Antoinette? "Unlike her burly brothers, she still hadn't quite discovered what she was good at," Kelly DiPucchio explains of the poodle-heroine in "Antoinette"...a delightful companion to the 2014 picture book "Gaston."
Here again the pages brim with Christian Robinson's joyful, naif artwork as we return to the bustle of two Parisian families of dogs. Everyone is frisking in the park one day when a puppy named Ooh-La-La goes missing. Worried poodles hunt for her without success; anxious bulldogs seek but do not find. "In that moment, Antoinette felt a tug in her heart and a twitch in her nose. She could not—would not—give up!" In this spirited adventure for readers ages 4-8, it turns out that Antoinette's talent lies in the degree of her doggedness."
— The Wall Street Journal, February 2017
Atheneum Books for Young Readers, 9781481457835, 40pp.
Publication Date: February 14, 2017
About the Author
Kelly DiPucchio is the award-winning and New York Times bestselling author of Grace for President and numerous other books for kids, including Super Manny Stands Up!; Crafty Chloe, Zombie in Love, Gaston, and Antoinette. She lives with her husband and three children in Michigan. You can find out more about Kelly and her books at KellyDiPucchio.com.

Christian Robinson was born in Hollywood, California. He grew up in a small one-bedroom apartment with his brother, two cousins, aunt, and grandmother. Drawing became a way to make space for himself and to create the kind of world he wanted to see. He studied animation at the California Institute of the Arts and would later work with the Sesame Workshop and Pixar Animation Studios before becoming an illustrator of books for children. His books include Gaston and Antoinette, written by Kelly DiPucchio, and the #1 New York Times bestseller Last Stop on Market Street, written by Matt de la Peña, which was awarded a Caldecott Honor, a Coretta Scott King Illustrator Honor, and the Newbery Medal. He presently lives in northern California with his rescue greyhound Baldwin and several houseplants. He looks forward to one day seeing the aurora borealis. Visit him online at TheArtofFun.com.