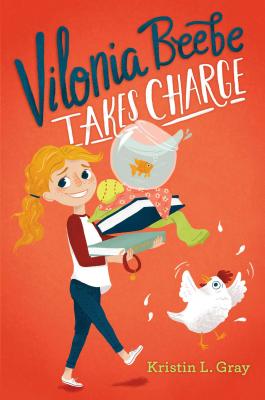 Vilonia Beebe Takes Charge (Hardcover)
Simon & Schuster/Paula Wiseman Books, 9781481458429, 208pp.
Publication Date: March 7, 2017
Other Editions of This Title:
Paperback (3/6/2018)
Prebound (3/6/2018)
* Individual store prices may vary.
Description
"A heartfelt read filled with nuanced characters; recommended for those seeking a fast-paced adventure with a very human story." —School Library Journal

"A humorous, poignant, realistic debut story." —Kirkus Reviews

Vilonia is determined to prove she's responsible enough to care for a dog in this "sensitive and uplifting coming-of-age" (Publishers Weekly) novel.

Being responsible is NOT easy.

Fourth grader Vilonia hasn't lost her rain coat in the three weeks she's had it and she's brushed her teeth every night and she's volunteered to be the Friday Library Helper. But all that hard work is worth it if it means she can get a dog. Besides, this dog isn't just because Vilonia has wanted one for pretty much ever. It's also to help Mama, who's been lost in one, big sadness fog for forty-three days—ever since Nana died. But Vilonia read that pets can help with sadness. Now all she has to do is keep the library goldfish alive over spring break, stop bringing stray animals home, and help Mama not get fired from her job. And she's got to do all of it before the Catfish Festival. Easy as pie, right?

Tremendous voice, humor, and heart make this debut novel utterly lovable.
About the Author
Kristin L. Gray drinks coffee (cream, no sugar) and writes books (funny, not sad) from her home in northwest Arkansas. She loves to read, walk her dogs, and eat cake for breakfast. She will also travel any chance she gets. Kristin's fourth-grade self would never believe she has five children, two dogs, one fish, a bearded dragon, and a shy gecko. Vilonia Beebe Takes Charge is her first novel. To learn more about Kristin, or to send her a cake, visit her online at KristinLGray.com.
Praise For Vilonia Beebe Takes Charge…
Fourth-grader Vilonia takes on more than she bargains for trying to prove she's responsible enough to adopt a dog.Freckle-faced white tomboy Vilonia has a "reputation for taking in destitute creatures" and wants a dog. When Vilonia's beloved Nana died a few weeks ago, her grieving mother withdrew in "one sad funk." With her father overloaded running the house, Vilonia has been secretly handling her mother's job writing obituaries for the local paper. A poster at the animal shelter convinces Vilonia a dog would be great therapy for her mother. When she hears about a litter of new puppies needing homes, Vilonia volunteers to take care of the school librarian's pet goldfish, Max, during semester break. If she can take care of Max for a week, surely her father will agree she's responsible enough for a dog. When Max dies unexpectedly (and inevitably), Vilonia must find a replacement goldfish quickly or lose her chances of adopting a puppy. Vilonia narrates her story with a colloquial Mississippi twang, punctuating self-effacing descriptions of her well-meaning but oft ill-fated actions with worry about her mother, desire for a dog, and longing for her grandmother. Textual references to Because of Winn Dixie resonate. A humorous, poignant, realistic debut story about a very responsible little girl who's a "force of nature." (Fiction. 8-12)
— Kirkus Reviews

In this sensitive and uplifting coming-of-age journey, nine-year-old Vilonia Beebe wants two things: a dog and for Mama to recover from the depression brought on by the death of Vilonia's grandmother. When she learns that pets can help cure depression, she begins the Great Pet Campaign, combining the two goals. . . . Debut author Gray brings Vilonia's small Mississippi town to vibrant life, creating a cast of warm, eccentric inhabitants and traditions, including the annual Catfish Festival. Vilonia's amusing scrapes serve to counterbalance the seriousness of her mother's condition.
— Publishers Weekly

Vilonia narrates her story with a colloquial Mississippi twang, punctuating self-effacing descriptions of her well-meaning but oft ill-fated actions with worry about her mother, desire for a dog, and longing for her grandmother. Textual references to Because of Winn Dixie resonate. A humorous, poignant, realistic debut story about a very responsible little girl who's a "force of nature."
— Kirkus Reviews

This contemporary tale is full of humor. . . . A heartfelt read filled with nuanced characters; recommended for those seeking a fast-paced adventure with a very human story.
— School Library Journal

This sweet, likeable character has an authentic voice that readers can relate to, especially outdoorsy, take charge kids. . . . The light and sweet tone used to approach a serious topic reminds me of how author Cynthia Lord handles weighty issues in a relatable and kid-friendly way.
— School Library Connection