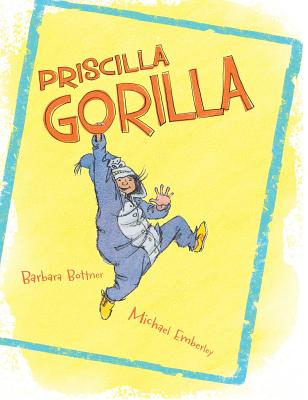 Priscilla Gorilla (Hardcover)
Atheneum/Caitlyn Dlouhy Books, 9781481458979, 40pp.
Publication Date: March 7, 2017
* Individual store prices may vary.
Description
When a whole class goes gorilla, they learn the importance of balancing passion and creativity with cooperation in this charmer of a picture book from the New York Times bestselling duo, Barbara Bottner and Michael Emberley.

The day Priscilla gets a book about gorillas, she instantly becomes obsessed. She dances like them, eats like them, and wears her gorilla costume 24–7! There are so many things to love about gorillas, but what Priscilla loves best is how they seem to always get their way.

So when Mr. Todd tells all his students to dress up like their favorite animal, Priscilla's choice is obvious. But dancing around and beating her chest when it's not her turn sends Priscilla straight to the Thinking Corner. She is of course outraged—nobody tells a gorilla what to do!—and as her attitude spreads, soon the thinking corner is full of her classmates. Is Priscilla really channeling her inner gorilla, or is she just a troublemaker in ape's clothing?
About the Author
Barbara Bottner is the New York Times bestselling author of over forty books including Miss Brooks' Story Nook, Wallace's Lists, and Bootsie Barker Bites. She is also a screenwriter and writing coach who began her career as an artist and actor. She lives in Los Angeles, California.

Michael Emberley is the illustrator of many books for children including Hello Benny!, Go! Go! Maria!, and Barbara Bottner's Miss Brooks' Story Nook. Michael lives in Ireland.
Praise For Priscilla Gorilla…
Priscilla is not a gorilla, but she sure loves everything about them. Six-year-old Priscilla has made her dad read All About Gorillas to her a "million skillion times!" When her mom asks why she loves gorillas so much, Priscilla responds, "They always get their way." Her mother opines that Priscilla gets her way a lot already. But at school, Priscilla's enthusiasm for simians sometimes gets her sent to the Thinking Corner. When, on picture day, Mr. Todd has the class give reports on their favorite animals while in costume, Priscilla wants to keep her gorilla jammies on for the picture…and ends up out of the picture and in the Thinking Corner. Her classmates follow her lead, though, and soon the Thinking Corner is pretty crowded. Her parents point out some cooperative traits common in gorillas, sparking a change in behavior if not in heart. After Priscilla apologizes to Mr. Todd (sort of), the class trip to the zoo is a gorillastravaganza. Bottner's tale of ape adoration is sweetly spot-on. Primary schoolchildren will identify with Priscilla, her obsession, and her multiracial classmates. Emberley's watercolor-and-pencil illustrations telegraph every emotion, from childish exuberance to patient parental love. The four pages of the famous gorilla dance at the close are worth the price of admission. Priscilla and her dad have black hair and light brown skin; her black-haired mom's skin is a shade pinker. A precious and precocious primate parable sure to please. (Picture book. 4-8)
— Kirkus, STARRED REVIEW

Since age six, Priscilla has been fascinated by gorillas (she particularly likes that gorillas "always get their way"). Priscilla's enthusiasm at inappropriate times results in her being "invited" to the class Thinking Corner. Things come to a head when Priscilla refuses to remove her gorilla outfit for the class picture, and soon her other classmates join her at the Thinking Corner in solidarity. Priscilla's father points out that gorillas are known for helping one another and cooperating, and Priscilla, fortified by this new knowledge, is able to get back in the good graces of her teacher. All ends well with a class trip to the ape house at the zoo and a spontaneous gorilla dance. Emberley's lively illustrations not only masterfully capture the activity and drama inherent in Bottner's text, but also expand the personalities of the supporting characters, making them fully three-dimensional. There is no villain here, just a clash of wills, showing that, like gorillas, we can all get along if we try. — Randall Enos
— Booklist

In a funny, empathic, and refreshingly unsentimental take on childhood, the team behind Miss Brooks Loves Books (And I Don't) and other titles introduces Priscilla, a gorilla-obsessed first grader. Priscilla's passion goes far beyond a mastery of fun facts: gorillas "always get their way," she tells her mother, and this perceived ability to call the shots speaks deeply to Priscilla's independent spirit and skepticism of authority—especially when that authority is her put-upon teacher, Mr. Todd. But Priscilla's silverback act soon starts taking its toll on the classroom—so many peers emulate her that everyone ends up doing time in the euphemistically named Thinking Corner—and something has to give. Emberley's watercolors, which channel the mischievous intelligence of Sendak, are wonderful at conveying personality through body language: a single drawing of Mr. Todd putting on his coat while announcing a field trip instantly communicates that this is a teacher with a solution to the Priscilla problem. And Priscilla, with her outsize confidence and (eventual) willingness to see a different perspective, is the perfect heroine for our times. Ages 4–7.
— Publishers Weekly *STARRED REVIEW*

With the single-minded focus of a kindergartner with a new obsession, Priscilla eats, sleeps, and breathes gorillas. After receiving a most wondrous book called All About Gorillas, the girl informs her mother that she likes gorillas because "They always get their way." Her beleaguered teacher, Mr. Todd, does his best to deal with the onslaught of continuous gorilla art, interpretive dance moves, jungle calls, and perpetual costumes. Ultimately, his enthusiastic charge is invited to the "Thinking Corner." Priscilla informs her parents that the only thinking she does there is about how she doesn't like the "Thinking Corner." When her friends at school catch her wild animal bug and begin insisting on dressing up as their own favorite animals, Mr. Todd takes matters into his own hands and proposes a field trip to the zoo. Priscilla comes face-to-face with her hero, and everyone breaks into spontaneous gorilla dancing, including the suddenly uninhibited Mr. Todd. Emberley's delightfully wacky illustrations capture Bottner's colorful narrative. This author/illustrator duo do a dynamite job of portraying what all early education teachers should have the freedom and funding to do—follow and build on the interests of their students. VERDICT This is an exceptional pairing of language and art. Its humor and fresh message give it wide appeal, and its positive depiction of a male teacher makes it a standout among stories about kindergarten classrooms.
— School Library Journal *STARRED*