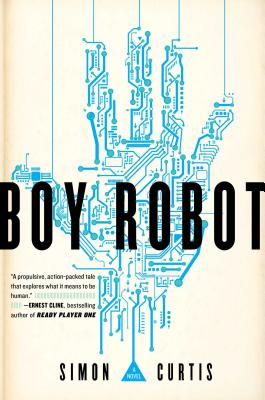 Boy Robot
Hardcover

* Individual store prices may vary.
Other Editions of This Title:
Compact Disc (10/25/2016)
MP3 CD (10/25/2016)
Compact Disc (10/25/2016)
Paperback (12/31/2050)
MP3 CD (10/25/2016)
Description
Seventeen-year-old Isaak discovers the truth about his origin and the underground forces that must come together to fight against a secret government organization formed to eradicate those like him in this high-octane science fiction debut.

There once was a boy who was made, not created.

In a single night, Isaak's life changed forever.

His adoptive parents were killed, a mysterious girl saved him from a team of soldiers, and he learned of his own dark and destructive origin.

An origin he doesn't want to believe, but one he cannot deny.

Isaak is a Robot: a government-made synthetic human, produced as a weapon and now hunted, marked for termination.

He and the Robots can only find asylum with the Underground—a secret network of Robots and humans working together to ensure a coexistent future.

To be protected by the Underground, Isaak will have to make it there first. But with a deadly military force tasked to find him at any cost, his odds are less than favorable.

Now Isaak must decide whether to hold on to his humanity and face possible death…or to embrace his true nature in order to survive, at the risk of becoming the weapon he was made to be.

In his debut, recording artist Simon Curtis has written a fast-paced, high-stakes novel that explores humanity, the ultimate power of empathy, and the greatest battle of all: love vs. fear.
Praise For Boy Robot…
"Simon Curtis's first novel is infused with intelligence and empathy. Boy Robot is a propulsive, action-packed tale that explores what it means to be human."
— Ernest Cline, bestselling author of Ready Player One and Armada

"A fascinating premise and plenty of action."
— Kirkus Reviews

A cyber-dystopian future America is the scene of musician Curtis's heartrending but uneven first novel. The lead-up to Isaak's 18th birthday has involved a killer headache and dreams of other kids being chased by agents in black. After a wound heals itself far too quickly to be natural and Isaak's adoptive mother kicks him out of the house, he finds out that he is a "Robot"; government-made synthetic humans created for war and released into the population as babies by a scientist with a shady agenda, Isaak's kind are being hunted and are forming an underground resistance. From there, Curtis's adventure story of teens on the run becomes a tad predictable, but Isaak's narration and a possible romance with a human male companion keep things interesting. Flashbacks of the other characters' lives before joining the underground include graphic descriptions of transphobic and homophobic trauma, as well as sexual assault, to a point that sometimes feels gratuitous but also gives real insight into each teen's situation, and certainly aims for empathy. A tension-filled ending leaves readers hanging on for a sequel. Ages 14–up.
— Publishers Weekly
Margaret K. McElderry Books, 9781481459297, 432pp.
Publication Date: October 25, 2016
About the Author
Simon Curtis was born in Michigan and raised in Tulsa, Oklahoma. He was diagnosed with leukemia at age ten and began performing in musical theater and opera that same year. He was the happiest bald, chemotherapy-addled cancer patient ever seen on the stage. At eighteen, he moved to Los Angeles. After various roles on Nickelodeon and Disney Channel, Simon left acting to pursue music, releasing his first album, 8bit Heart, as a free download, followed by his second album, RA, which landed at number twenty on Billboard's Dance & Electronic Albums chart. Simon continues to write and release music as an independent recording artist. Above all else, he strives to inspire hope in young people.