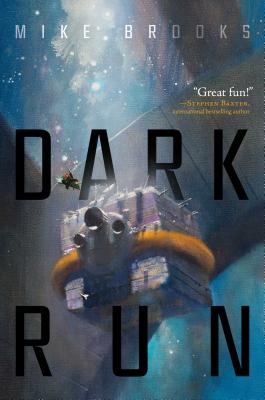 Dark Run (Keiko #1) (Hardcover)
Saga Press, 9781481459549, 352pp.
Publication Date: May 24, 2016
* Individual store prices may vary.
Description
In this debut space epic, a crew of thieves and con artists take on a job that could pay off a lot of debts in a corrupt galaxy where life is cheap and criminals are the best people in it.

The Keiko is a ship of smugglers, soldiers of fortune, and adventurers travelling Earth's colony planets searching for the next job. And they never talk about their past—until now.

Captain Ichabod Drift is being blackmailed. He has to deliver a special cargo to Earth, and no one can know they're there. It's what they call a dark run…And it may be their last.
About the Author
Mike Brooks was born in Ipswich, Suffolk in the UK and moved to Nottingham when he was eighteen to go to university. He's stayed here ever since, and now lives with his wife, two cats, two snakes, and a collection of tropical fish. When not working for a homelessness charity, he plays guitar and sings in a punk band, watches football (soccer), MMA, and nature/science documentaries, goes walking in the Peak District or other areas of splendid scenery, and DJs wherever anyone will tolerate him. And, y'know, writes.
Praise For Dark Run (Keiko #1)…
"Golden Age chic! Great fun!"
— Stephen Baxter

Brooks has concocted a space opera full of fast talk, action, and gratuitous violence. Brooks delivers a old-fashioned space Western peopled with likable, flawed characters who gallop across an entertaining page-turner.
— Kirkus Reviews

Brooks turns in an enjoyable adventure that has all of the fast action and clever dialog fans of the genre look for, with well-drawn secondary characters who also have moments to shine. Suggest this debut to enthusiasts of caper plots and stories such as Chris Wooding's Ketty Jay novels, and, of course, Firefly.
— Library Journal

""Dark Run is a fun novel."

"Dark Run deserves to be this year's break out. A space opera in the rollicking tradition of Timothy Zahn, John Scalzi, James S.A. Corey, C.J. Cherryh."
— Andrew Liptak

"[Dark Run] doesn't disappoint. With its fast moving action, wise-cracking dialogue and wry humour."

"Dark Run is a fast paced smuggler story that delivers all the crooked and devious action you could ask for."