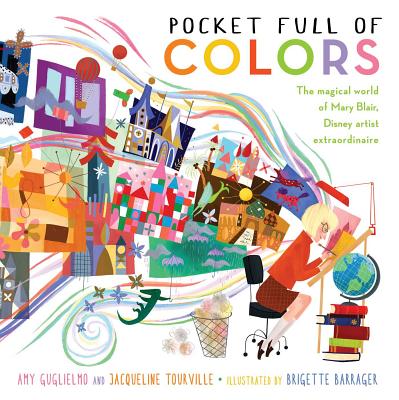 Pocket Full of Colors (Hardcover)
The Magical World of Mary Blair, Disney Artist Extraordinaire
Atheneum Books for Young Readers, 9781481461313, 48pp.
Publication Date: August 29, 2017
* Individual store prices may vary.
Description
Amy Guglielmo, Jacqueline Tourville, and Brigette Barrager team up to tell the joyful and unique story of the trailblazing Disney artist Mary Blair.

Mary Blair lived her life in color: vivid, wild color.

From her imaginative childhood to her career as an illustrator, designer, and animator for Walt Disney Studios, Mary wouldn't play by the rules. At a time when studios wanted to hire men and think in black and white, Mary painted twinkling emerald skies, peach giraffes with tangerine spots, and magenta horses that could fly.

She painted her world.
Praise For Pocket Full of Colors: The Magical World of Mary Blair, Disney Artist Extraordinaire…
*STARRED REVIEW* "Sunshine radiates past corners and mermaids swim off the page, while rainbow wisps stream from Mary's paintbrush and trail after her fingers.... The whimsical illustrations will enamor young readers while older kids will learn about a Disney legend as well as new words, such as russet or viridian. An independent, enthusiastic role model, Mary will teach young readers how to value what makes them special and advocate for their talents."

"Barrager's hues...are energetic.... A bright homage to Blair's bold work."

"Walt Disney Studios were pretty solidly a man's world when Mary Blair and her passionate love of zingy color reported to work in 1940 . . . [K]ids and their adult readers…will be rewarded with a story of a woman worth knowing, and they will enjoy the '60s mod colorscape and collage-like retro design that echos Blair's 'Small World' achievement."

"This picture book biography of Mary Blair reveals a woman who thought outside the box and beyond the "rules" of art.... Budding artists will enjoy learning about Blair and her persistence in obeying her instincts and creating art that pleased her."

"The aesthetic of artist Mary Blair has had an outsize impact on the children's book world, and now her life story gets its own book.... Barrager (Uni the Unicorn) laces her vibrant images with visual references to Blair's memorable work.... An effervescent tribute that doesn't sugarcoat Blair's path to success."

"Barrager's digital illustrations employ a kaleidoscopic, Fauvist palette and intense patterns in a retro aesthetic that reflects the time of Disney's golden age. Guglielmo and Tourville's text uses deliciously precise color names.... This is a love letter to the color wheel and a prismatic snapshot of a commerical artist's singular style, with a touch of feminism as this woman's vivacious creativity couldn't be dulled by "men in charge," with their "black lines and strict rules.""