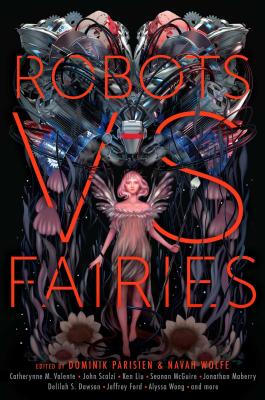 Robots vs. Fairies (Hardcover)
Gallery / Saga Press, 9781481462365, 384pp.
Publication Date: January 9, 2018
Other Editions of This Title:
Paperback (1/9/2018)
* Individual store prices may vary.
Description
Featured in the Netflix series Love, Death & Robots

A unique anthology of all-new stories that challenges authors to throw down the gauntlet in an epic genre battle and demands an answer to the age-old question: Who is more awesome—robots or fairies?

Rampaging robots! Tricksy fairies! Facing off for the first time in an epic genre death match!

People love pitting two awesome things against each other. Robots vs. Fairies is an anthology that pitches genre against genre, science fiction against fantasy, through an epic battle of two icons.

On one side, robots continue to be the classic sci-fi phenomenon in literature and media, from Asimov to WALL-E, from Philip K. Dick to Terminator. On the other, fairies are the beloved icons and unquestionable rulers of fantastic fiction, from Tinkerbell to Tam Lin, from True Blood to Once Upon a Time. Both have proven to be infinitely fun, flexible, and challenging. But when you pit them against each other, which side will triumph as the greatest genre symbol of all time?

There can only be one…or can there?

Featuring an incredible line-up of authors including John Scalzi, Catherynne M. Valente, Ken Liu, Max Gladstone, Kat Howard, Jonathan Maberry, and many more, Robots vs. Fairies will take you on a glitterbombed journey of a techno-fantasy mash-up across genres.
About the Author
Dominik Parisien is an editor, poet, and writer. He has worked on several anthologies with Ann and Jeff VanderMeer, including The Time Traveler's Almanac, Sisters of the Revolution, and The Bestiary. He is the editor for Clockwork Canada, an anthology of Canadian steampunk, and the coeditor of The Starlit Wood: New Fairy Tales and Mythic Dream, along with Navah Wolfe. Dominik is also the poetry editor for Postscripts to Darkness, and was an editorial assistant for Weird Tales. His fiction and poetry have appeared in Strange Horizons, Uncanny Magazine, Shock Totem, Imaginarium 2013: The Best Canadian Speculative Writing, and other venues.

Navah Wolfe is a Hugo Award–nominated editor at Saga Press and the coeditor of The Starlit Wood: New Fairy Tales and Mythic Dream, along with Dominik Parisien. She was previously an editor at Simon & Schuster Books for Young Readers, where she worked on many bestselling books, including some that have won awards such as the Printz Honor, The Pura Belpré Award, The Pen/Faulkner Award, The Stonewall Award, the Lambda Literary Award, and the Schneider Family Award.
Praise For Robots vs. Fairies…
"The all-original stories collected here provide a lively cross-section of current science-fiction and fantasy writers… It's a cliche to say there's something for everyone here, but in this surprisingly eclectic anthology there probably is."
— The Chicago Tribune

"These lively, action-packed, and emotional tales by the best writers in sf/fantasy allow readers to root for their favorite team or discover new pleasures in an unfamiliar genre...Exceptional storytelling and well-paced writing make this volume a total delight."
— Library Journal

"The stories range from hilarious to spine-tingling, and each one has its own enchanting qualities...This is a cinematic and well-paced collection and will please both science-fiction and fantasy readers with its variety. Team Robot or Team Fairy? Definitely both."
— Booklist

"An impressive roster of contributors… a highly enjoyable collection of tales."
— Locus Magazine

"Robots v. Fairies is a perfect mix of wonder and humor, technology and magic, with a touch of darkness here and there to ground us in the truths behind the myths and invention, and it's sure to appeal to fans of both genres."
— B&N SciFi & Fantasy Blog

"An essential collection of stories exploring the eternal conflict between magic and technology...Themes both humorous and serious, delivered by the best in the business. Robots and fairies battle on, and the only winners are SFF readers."
— B&N SciFi & Fantasy Blog

"A fun mash-up of sci-fi and fantasy."
— GeedDad.com

"The modern revival of fairy tale fiction for adults began in the 20th century (with the stories of Angela Carter and Tanith Lee), and The Starlit Wood is proof that the revival is still going strong. Editors Parisien and Wolfe have brought a wide range of writers together to blaze new trails through the dark of the woods. Whether you're passionate about fairy tales, like I am, or haven't read them since childhood, I recommend this excellent anthology. I simply loved it."
— Terri Windling, World Fantasy Award-winning editor of the Snow White, Blood Red series, on THE STARLIT WOOD

"A classy, smart, and entertaining volume of stories put together with consummate care—and featuring the best and most exciting fantasy writers working in the field today."
— Jeff VanderMeer, New York Times-bestselling author of the Southern Reach trilogy, on THE STARLIT WOOD

"Lots of strange and wonderful goings-on in The Starlit Wood. Fairy tales you thought you'd left behind in childhood are back in some very poignant, sly and original versions that will touch the Wow in most readers."
— Jonathan Carroll, World Fantasy-Award winning author, on THE STARLIT WOOD

"This anthology is consistent throughout, with well-crafted writing and a tantalizing taste of each author's unique journey into reimagining classic fairy tales for a new audience."
— Booklist, on THE STARLIT WOOD

"A great pick for readers looking for a fresh, diverse spin on standard fairy tales."
— Library Journal, on THE STARLIT WOOD

"A rich sample of what awaits us in the world of fairy tales...well worth making time to read."
— Publishers Weekly, on THE STARLIT WOOD