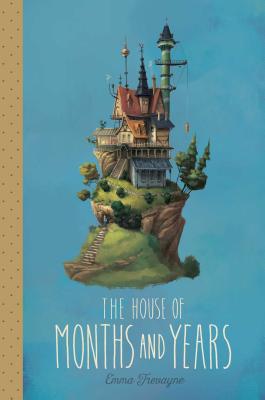 The House of Months and Years (Hardcover)
Simon & Schuster Books for Young Readers, 9781481462556, 288pp.
Publication Date: February 7, 2017
Other Editions of This Title:
Paperback (4/24/2018)
* Individual store prices may vary.
Description
A girl must stop the Boogeyman living in her home from stealing her family's warmest memories in this haunting, atmospheric novel from the author of Flights and Chimes and Mysterious Times and The Accidental Afterlife of Thomas Marsden.

When her distant aunt and uncle die, Amelia Howling is forced to move into their home when they leave her parents in charge of their children. Her parents assure her that it will be like having a grand adventure with three new siblings, but Amelia is not convinced. Luckily, the house is large, filled with nooks and crannies perfect for hiding from her cousins.

But even with all the nooks and crannies, the rumbling and crumbling rooms are more sinister than they seem. The house was built years ago by a creature named Horatio, and he's been waiting for the perfect human inhabitant: Amelia. Horatio has the power to travel through time and memories, and lures Amelia into his world. The memories of children, he told her, were the best, and Amelia agreed—her cousins were full of good memories. Until she noticed that once she and Horatio visited a memory, it was gone forever. And she had been stealing the good memories of her cousins and their parents without even noticing!

Horrified and scared, Amelia lets her cousins in on her secret, and asks them for help. Together, they must race through time to recover their minds and break the perfect clockwork of the evil Calendar House.
About the Author
Emma Trevayne is a full-time writer. She is an avid music collector, a lover of computer code languages, and a photographer. She is the author of Coda, Chorus, Flights and Chimes and Mysterious Times, and Spindrift and the Orchid. She has lived in Canada, England, and America.
Praise For The House of Months and Years…
"[A]n eerie and enchanting story."

"[Amelia's] dilemmas will resonate with readers, while the house's Narnia-like appeal will capture their imaginations."

"[An] engaging, well-written fantasy. A solid middle grade fantasy with an intriguing setting and a relatable protagonist."

"A just-scary-enough adventure that might send readers to investigate more about real-life "calendar houses" like Amelia's new one."

"Amelia's loneliness and feeling of unease are striking, thanks to Trevayne's atmospheric prose. . . .Readers will agonize with Amelia as she weighs the cost of immortality."