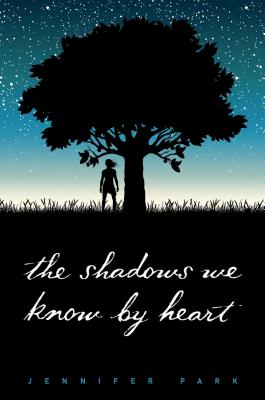 The Shadows We Know by Heart
Hardcover

* Individual store prices may vary.
Other Editions of This Title:
Paperback (3/13/2018)
Description
In this haunting and luminescent debut novel, a girl's complicated family life starts to unravel after she finds herself falling for a mysterious boy who lives in the forest behind her house.

Leah Roberts's life hasn't been the same since her brother died ten years ago. Her mother won't stop drinking, her father can't let go of his bitter anger, and Leah herself has a secret she's told no one: Sasquatches are real, and she's been watching a trio of them in the woods behind her house for years.

Everything changes when Leah discovers that among the sasquatches lives a teenager. This alluring, enigmatic boy has no memory of his past and can barely speak, but Leah can't shake his magnetic pull. Gradually, Leah's life entwines with his, providing her the escape from reality she never knew she needed.

But when Leah's two worlds suddenly collide in a deadly showdown, she uncovers a shocking truth as big and extraordinary as the legends themselves, one that could change her life forever.
Praise For The Shadows We Know by Heart…
For years, Leah has stolen out at night to the forest abutting her East Texas home to set out apples on a tree stump, then hide and watch three giant, hairy Bigfoot lumber out and consume her offering; this time, the visitors include a human boy.Leah's kept her trips secret from her dysfunctional, all-white family: authoritarian preacher dad, secret-tippler mom, and older brother Matt. Each has nursed corrosive secrets in the decade since Matt's twin died in a horrific incident that also claimed the brother and father of Leah's best friend, Ashley (all also white). Their losses are a forbidden topic. Why her parents then moved next to the forest puzzles Leah, banned from setting foot in it herself. Blonde Leah attracts romantic attention from Matt's friend, but he's no match for the enchanting, mysterious green-eyed, bronze-skinned forest boy who's claimed Leah's heart and is equally smitten. In secret encounters that include the smallest Sasquatch, their relationship deepens. Meanwhile, Leah's parents head out nights, in camo hunting attire; excitement's replaced their customary hostility. As convoluted paths converge, long-hidden truths are revealed. Related by Leah in the present tense, her discoveries—of the boy, the Sasquatch, and their forest world at nigh—are intense and authentic, resonating with heady excitement. More mundane plot developments and explanations tidy loose narrative threads but strain credulity. Paradoxically, the Tarzan-esque fantasy rings truest. An appealing debut for romance fans and readers willing to suspend disbelief. (Romantic fantasy. 12-16)
— Kirkus Reviews

Leah's life seems to be held together by secrets and lies, especially since her older brother was killed in the woods. After Sam's death, her preacher father became super strict and angry, her melancholy mother began to sip from a secret flask, and only Sam's twin, Matt, seems unchanged. Leah keeps the biggest secret of all, because she knows that a trio of Sasquatch live in the woods next door and that a wild boy, with whom she is infatuated, lives with them. Although she is forbidden to go into the woods, Leah is drawn into the handsome wild boy's world, risking punishment and danger to learn more about him. She keeps this friendship a secret even from her best friend, Ashley, who has lost her father and brother, and from her new boyfriend, the sheriff's son, on whom she has been crushing for years. As she relates her story, Leah frequently refers to the tragedy that killed Sam 10 years earlier, revealing small clues and memories of the event, and readers may be able to connect the dots of the mystery before Leah does. Peppered with romantic metaphors and flowery descriptions, Leah's first-person narration is dense and dramatic. The novel's most satisfying passages are at the end, although many loose ends aren't entirely wrapped up. VERDICT A fantastical romance that will tug the heartstrings, with a bit of mystery and danger. Recommended for all YA collections.
— School Library Journal

"Cardinal Rule One: Don't lie. God will know and I will, too. Cardinal Rule Two: Don't go into the woods. Ever." Ten years after her brother was killed, Leah is breaking both of her father's rules in order to escape her broken family, meet with her crush Ben, and see the creatures only she knows exist: Sasquatches. But when she discovers a human teenage boy living with the creatures, everything Leah thought she knew about her family, her friends, and her town comes crashing down around her. Adding Sasquatches to an otherwise realistic story about a pastor's daughter is an unusual choice that doesn't quite pay off until the last third of the book. Though readers may be tempted to give up as Park very slowly builds the tension, both romantic and interpersonal, her deftly paced reveal of what happened to Leah's brother so many years before and her satisfying conclusion will reward readers captured by her sad but strong protagonist and her strange love triangle. — Snow Wildsmith
— Booklist

After a family tragedy involving the death of her brother, Leah Roberts, age 16, lives a life of strict rules set by her preacher father. The nearby woods are the only place she feels free, and she seeks their refuge whenever she can. For years she has been leaving apples on a tree stump for a family of Sasquatch, but now there's one more figure in the family—a human boy about her age. One night Leah meets the boy from the woods and finds herself strangely attracted to him. She feels as if she has known him forever and falls in love with him. But when her parents begin sneaking into the forest in the dead of night, Leah's world crumbles. Is her parents' behavior linked to the death of her brother ten years ago? Why does Leah feel as if she knows the wild boy? Teens looking for mystery and romance will be pleased with this easy-to-read novel. Booktalk this novel and word of mouth will keep it in circulation.

Recommended
— School Library Connection
Simon & Schuster Books for Young Readers, 9781481463515, 304pp.
Publication Date: March 14, 2017
About the Author
Jennifer Park is a debut author living in Texas. She is a member of the Houston SCBWI. You can visit her online at JenniferParkArt.com.