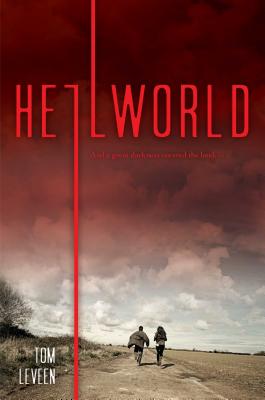 Hellworld
Hardcover

* Individual store prices may vary.
Other Editions of This Title:
Paperback (3/20/2018)
Description
In an effort to put her family back together, a teen struggles to discover what happened to her mother who disappeared during a ghost hunt in this haunting novel from the author of Party, Sick, and Shackled.

Five years ago, Abby Booth's mom, cohost of a ghost-hunting reality show, went missing while filming in a "haunted" cave in Arizona.

Since then, Abby's life has all but fallen to pieces, most notably because of her dad's deep depression and how they've drifted further and further apart.

But now, at sixteen, Abby has decided that things will change. She plans to go to the same cave where her mom and the crew went missing and to find out, once and for all, what happened there.

With the help of the cohost's son Charlie, and two of his friends, Abby sets off on a quest for answers…but when the group ends up finding, what they stumble across in that dark, primordial cave in Arizona, is nothing they could have ever imaged.

Abby was investigating a possible haunting…she never expected that there could be something worse.
Praise For Hellworld…
This apocalyptic novel starts deep inside an Arizona cave that's so dark that "it causes dizziness and nausea." Charlie is calling for Abby, then his girlfriend, Selby. Abby answers, but Selby can only whimper in pain from the knife wound she inflicted on herself. Stunned and terrified, Charlie and Abby crawl toward each other, with only sound to guide them. From there, the narrative flips back to five years earlier, when the film crew from The Spectre Spectrum, a ghost-debunking reality TV show, disappeared. Abby's mom and Charlie's dad were among the missing. Seventeen-year-old Abby's life since then has revolved around playing the adult in the house as her father sinks further and further into depression. While beginning to get rid of reminders of her mother so that her dad might heal, Abby comes across a book, Myth of Gods, which had belonged to Charlie's dad. Someone had drawn two thick black lines, making an X over the title, and underneath, had written one word: "wrong." Abby calls Charlie, and together they plan to go back to the Arizona cave where their parents were lost. As the story alternates between the past and the present, readers will try to discover how this group of friends, introduced in the opening scenes, came to be in the cave—and what they find. The taut pacing is reminiscent of that in Jodi Picoult's Nineteen Minutes, and teens will have to pay very close attention to every cleverly integrated detail to follow this mystery/adventure to its shocking revelation. VERDICT This intriguing, well-crafted tale will engage fans of horror, mystery, and adventure.
— School Library Journal

Five years ago, the cast and crew of the paranormal reality show Spectre Spectrum disappeared inside a "haunted" cave. Abby, whose scientist mother was a cohost, can't accept the lack of answers (and bodies); raised as a skeptic and atheist, Abby wants a rational explanation. Plus, if she can find one, maybe she can pull her father out of his depression. Abby plans a caving expedition to search for the truth with Charlie, the other costar's son; Alex, the executive producer's son; and Shelby, Charlie's girlfriend. Leveen alternates between two time lines, before and after the monsters are freed; this structure adds mystery, but the transitions between teen drama, postapocalyptic survival, and B-movie silliness can be jarring. The characters hold interesting debates on science and religion, belief and skepticism, but only Abby's personal story has emotional depth, and the end of the world feels curiously detached. Ultimately, this is a story speculating that Noah's Ark was a fifth-dimensional prison for hellish creatures: entertaining, suspenseful, and sometimes ridiculous. — Krista Hutley
— Booklist
Simon & Schuster Books for Young Readers, 9781481466332, 304pp.
Publication Date: March 21, 2017
About the Author
Tom Leveen is the author of Random, Sick, manicpixiedreamgirl, Party, Zero (a YALSA Best Book of 2013), Shackled, and Hellworld. A frequent speaker at schools and conferences, Tom was previously the artistic director and cofounder of an all-ages, nonprofit visual and performing venue in Scottsdale, Arizona. He is an Arizona native, where he lives with his wife and young son.
or
Not Currently Available for Direct Purchase