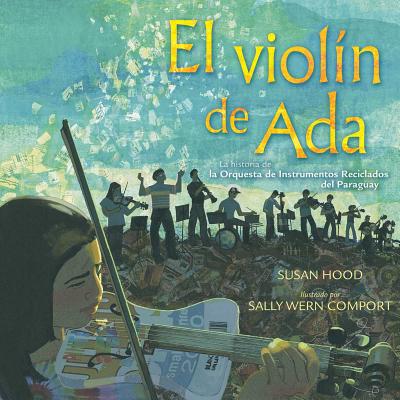 El Violin de ADA (ADA's Violin) (Hardcover)
La Historia de la Orquesta de Instrumentos Reciclados del Paraguay
Simon & Schuster Books for Young Readers, 9781481466578, 40pp.
Publication Date: May 3, 2016
Description
De la autora ganadora de premios Susan Hood y de la ilustradora Sally Wern Comport, llega la extraordinaria y veridica historia de la Orquesta de Instrumentos Reciclados de Paraguay, una orquesta compuesta por ninos que tocan instrumentos hechos de basura reciclada. From award-winning author Susan Hood and illustrator Sally Wern Comport comes the extraordinary true tale of the Recycled Orchestra of Paraguay, an orchestra made up of children playing instruments built from recycled trash. Ada Rios crecio en Cateura, un pueblo pequeno en Paraguay construido alrededor de un vertedero. Sonaba con tocar el violin, pero con escasos recursos para poco mas que lo esencial, nunca fue una opcion...hasta que un maestro de musica llamado Favio Chavez aparecio. El quiso darles a los ninos de Cateura algo especial, asi que les construyo instrumentos musicales hechos de materiales encontrados en la basura. Era una idea loca, pero una que dejaria a Ada--y al pueblo entero--cambiados para siempre. Hoy en dia, la Orquesta de Reciclados toca alrededor del mundo, difundiendo su mensaje de esperanza e innovacion. Ada Rios grew up in Cateura, a small town in Paraguay built on a landfill. She dreamed of playing the violin, but with little money for anything but the bare essentials, it was never an option...until a music teacher named Favio Chavez arrived. He wanted to give the children of Cateura something special, so he made them instruments out of materials found in the trash. It was a crazy idea, but one that would leave Ada--and her town--forever changed. Now, the Recycled Orchestra plays venues around the world, spreading their message of hope and innovation.
About the Author
Susan Hood es la autora de Spike, the Mixed-Up Monster (ilustrado por Melissa Sweet, homenajeada por Premios Caldecott), Rooting for You y Leaps and Bounce (ambos ilustrados por Matthew Cordell), y Mission: New Baby (con arte de Mary Lundquist), entre muchos otros. Ella ha trabajado para Nick Jr., Scholastic, y Sesame Street. Susan vive en Connecticut con su esposo y dos hijas. Visite SusanHoodBooks.com/Home para saber mas. Sally Wern Comport ha ilustrado numerosos libros ilustrados y novelas, incluyendo Love Will See You Through: Martin Luther King Jr.'s Six Guiding Beliefs, Brave Margaret: An Irish Adventure, y la serie Spice Mice. Tambien ha aplicado su habilidad para ilustrar varias obras de arte publicas, privadas e institucionales a gran escala. Sally y su familia viven en Annapolis, Maryland donde dirige Art at Large Inc. Sepa mas en ArtatLargeInc.com.
Advertisement