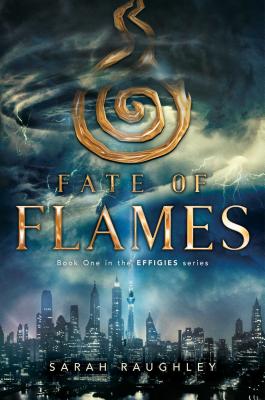 Fate of Flames (The Effigies #1)
Hardcover

* Individual store prices may vary.
Other Editions of This Title:
Paperback (11/21/2017)
Description
Four girls with the power to control the elements must come together to save the world from a terrible evil in this "series opener [that] has it all" (Kirkus Reviews).

Years ago, everything changed.

Phantoms, massive beasts of nightmare, began terrorizing the world. At the same time, four girls—the Effigies—appeared, each with a unique power to control a classical element. Since then, they have protected the world from the Phantoms. At the death of one Effigy, another is chosen, pulled from her normal life into the never-ending battle.

When Maia unexpectedly becomes the next Fire Effigy, she resists her new calling. A quiet girl with few friends and almost no family, she was much happier to admire the Effigies from afar. Never did she imagine having to master her ability to control fire, to protect innocent citizens from the Phantoms, or to try bringing together the other three Effigies.

But with the arrival of the mysterious Saul—a man who seems to be able to control the Phantoms using the same cosmic power previously only granted to four girls at a time—Maia and the other Effigies must learn to work together in a world where their celebrity status is more important than their heroism.

But the secrets Saul has, and the power he possesses, might be more than even they can handle…
Praise For Fate of Flames (The Effigies #1)…
"With its cast of diverse, well-drawn heroines, colourful world building, and action-packed storyline, FATE OF FLAMES is an immersive and monstrously fun read."
— Elsie Chapman, author of DUALED and DIVIDED

Girl power reigns in this debut fantasy series. Sixteen-year-old Maia believes in heroes and has always idolized the Effigies. No one is more surprised than she is when Natalya, the fire Effigy, dies and Maia is chosen to take her place. Known for their superhuman strength and the ability to control an element, the four, female Effigies are destined to fight phantoms, dark creatures that plague the world. When New York falls prey to a series of phantom attacks orchestrated by a man who can somehow control them, Maia finds herself in the middle of the action. Afraid and untrained, she must learn to work with the other Effigies—timid Lake, angry Chae Rin, and cold, powerful Belle—to save the world. What Maia lacks in skill, she makes up in spunk; however, she spends too long bumbling around, wondering what's going on—but that's intentional. In a world where Effigies are not just heroes, but also celebrities, the novel places an emphasis on humanizing the girls. As she gets to know her sisters-in-battle, it's not long before Maia realizes that Effigies are only human. The characters' races are somewhat ambiguous: Buffalo-born Maia's mother is from Jamaica, British Lake is brown-skinned, French Belle is blonde and white, and Chae Rin is a Canadian originally from South Korea. This series opener has it all: strong females, intrigue, a dash of romance, monsters, and a sequel in the wings. (Fantasy. 14 & up)
— Kirkus Reviews

A 16-year-old becomes the latest in a long line of young women imbued with elemental powers and charged to defend the world from invading monsters. Maia Finley, who has long idolized the so-called Effigies, unexpectedly becomes the new Fire Effigy when the previous one dies. She is taken in by an organization known as the Sect for training, but all plans are disrupted by the emergence of Saul, an enigmatic man with the unprecedented ability to control the phantoms that have terrorized humanity for more than a century. To defeat Saul, Maia must reunite the Effigies, no easy task. In a thrilling adventure with echoes of Pacific Rim, Avatar: The Last Airbender, and Buffy the Vampire Slayer, Raughley (Feather Bound) depicts the cost of power, the lure of fame, and the trauma of overwhelming stress in a compelling story with memorably flawed heroines. References to our world (Star Trek, Popsicles) in an alternate Earth that has seen monumental change (like the destruction of Seattle in the 1960s) are slightly jarring, but it's a minor quibble in an engrossing kickoff to the Effigies series. Ages 14–up.
— Publishers Weekly
Margaret K. McElderry Books, 9781481466776, 368pp.
Publication Date: November 22, 2016
About the Author
Sarah Raughley grew up in Southern Ontario writing stories about freakish little girls with powers because she secretly wanted to be one. She is a huge fangirl of anything from manga to sci-fi fantasy TV to Japanese role-playing games and other geeky things, all of which have largely inspired her writing. Sarah has been nominated for the Aurora Award for Best YA Novel and works in the community doing writing workshops for youths and adults. On top of being a YA writer, Sarah has a PhD in English, which makes her a doctor, so it turns out she didn't have to go to medical school after all. As an academic, Sarah has taught undergraduate courses and acted as a postdoctoral fellow. Her research concerns representations of race and gender in popular media culture, youth culture, and postcolonialism. She has written and edited articles in political, cultural, and academic publications. She continues to use her voice for good. You can find her online at SarahRaughley.com.
or
Not Currently Available for Direct Purchase