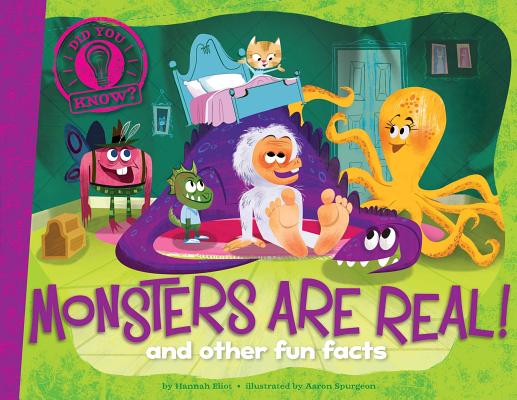 Monsters Are Real! (Hardcover)
and other fun facts (Did You Know?)
Little Simon, 9781481467827, 32pp.
Publication Date: July 26, 2016
Other Editions of This Title:
Paperback (7/26/2016)
* Individual store prices may vary.
Description
Did you know that monsters are real?! This book is filled with fun facts about dragons, vampires, the Yeti, and more!

Did you know that the Yeti roams around Mount Everest, the tallest peak on the entire planet?
How about that the Loch Ness monster is said to be a living dinosaur or even a sea serpent that swam into the lake before it became landlocked?
Or that the word "dragon" comes from the ancient Greek word "draconta," meaning "to watch"? That's why we often read about dragons guarding treasure!

Filled with tons of cool facts about the scariest monsters and other crazy creatures, plus colorful, humorous illustrations, this latest book in the Did You Know? series is sure to be a hit!
About the Author
Hannah Eliot is a children's book editor who lives in Manhattan, New York. Her favorite activities include editing (of course), writing, painting, and doodling all over every piece of notebook paper she uses.

Aaron Spurgeon is a professional artist working in the animation industry. Aaron's credits include Cloudy with a Chance of Meatballs 2 and the Mickey Mouse shorts, as well as several unreleased animation projects. When not working on movies, Aaron enjoys doing illustrations based on historical city locales and mentoring young artists. Aaron and his family live in Pasadena, California.