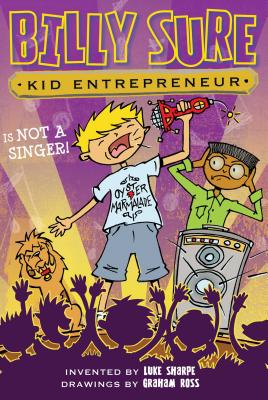 Billy Sure Kid Entrepreneur Is NOT A SINGER! (Paperback)
Simon Spotlight, 9781481468954, 160pp.
Publication Date: October 11, 2016
Other Editions of This Title:
Paperback (5/26/2015)
Paperback (9/1/2015)
Paperback (3/15/2016)
Paperback (5/2/2017)
Paperback (2/7/2017)
Paperback (5/17/2016)
Paperback (1/12/2016)
Paperback (7/19/2016)
* Individual store prices may vary.
Description
Billy Sure is an inventor, the CEO of Sure Things, Inc., and a middle school student. But he is not a singer! How bad is he? Find out in the ninth book of a hilarious middle grade series!

Everyone is talking about Billy Sure, the genius inventor and CEO of Sure Things, Inc. Billy went from ordinary kid with a dream to millionaire with his very own company when he created the All Ball. What is the All Ball? The All Ball is the only ball you'll ever need. With a push of a button, you can turn the All Ball into any sports ball. Comes in two sizes. Large: soccer, football, basketball, volleyball, bowling ball. Small: baseball, hockey puck, tennis ball, golf ball, Ping-Pong ball. Now Billy wants to help other kids achieve their dreams.

Billy and Manny are thrilled to be guest judges on Sing Out and Shout, everyone's favorite singing competition TV show—that is, until they find out they're not judges, they're contestants! When Manny sings, everyone cheers. But when Billy takes the stage, his voice CRACKS! and breaks a mirror! How will Billy survive the competition? Could inventing a Magical Microphone do the trick?

Find out in this wacky story with funny black-and-white illustrations throughout.
About the Author
Luke Sharpe is not a millionaire, but he has been trying to invent a machine that can teleport people anywhere in the world since he was eight years old. He has so far been unsuccessful but he has vowed never to give up. When he isn't working, Luke enjoys Hawaiian pizza and skateboarding. He lives near Chicago with his wife and son (named Billy, of course), their gecko, Eddie, and their aquarium full of exotic fish.

Graham Ross has grand plans for world domination through his illustrated inventions. Right now he's having a "ball" hanging out with Billy Sure, the next sure thing! Graham lives in a little log home in the woods with his inventive family, just outside of Merrickville, Canada.