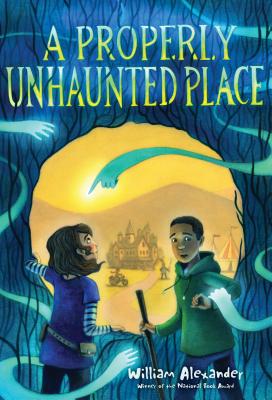 A Properly Unhaunted Place (Hardcover)
Margaret K. McElderry Books, 9781481469159, 192pp.
Publication Date: August 22, 2017
* Individual store prices may vary.
Description
From National Book Award–winning author William Alexander comes a wryly humorous story about two kids who try to save their town by bringing back its ghosts.

Rosa Ramona Díaz has just moved to the small, un-haunted town of Ingot—the only ghost-free town in the world. She doesn't want to be there. She doesn't understand how her mother—a librarian who specializes in ghost-appeasement—could possibly want to live in a place with no ghosts. Frankly, she doesn't understand why anyone would.

Jasper Chevalier has always lived in Ingot. His father plays a knight at the local Renaissance Festival, and his mother plays the queen. Jasper has never seen a ghost, and can't imagine his un-haunted town any other way. Then an apparition thunders into the festival grounds and turns the quiet town upside down.

Something otherworldly is about to be unleashed, and Rosa will need all her ghost appeasement tools—and a little help from Jasper—to rein in the angry spirits and restore peace to Ingot before it's too late.
About the Author
William Alexander won the National Book Award for his debut novel, Goblin Secrets, and won the Earphones Award for his narration of the audiobook. His other novels include A Festival of Ghosts, A Properly Unhaunted Place, Ghoulish Song, Nomad, and Ambassador. William studied theater and folklore at Oberlin College, English at the University of Vermont, and creative writing at the Clarion workshop. He teaches in the Vermont College of Fine Arts MFA program in Writing for Children and Young Adults. Like the protagonist of Nomad and Ambassador, William is the son of a Latino immigrant to the US. Visit him online at WillAlex.net and GoblinSecrets.com, and on Twitter via @WillieAlex.
Praise For A Properly Unhaunted Place…
"Concise, poetic...Alexander has created a cautionary tale and a profound and beautiful work."

* "Kelly Murphy's illustrations help bring life to William Alexander's (Goblin Secrets) succinct gem: a meticulously crafted world so tangible it feels like an alternate version of our own."
— Lynn Becker, blogger and host of Book Talk, a monthly online discussion of children's books for SCBWI

* "Alexander does an excellent job of building a contemporary world in which the paranormal is nevertheless ubiquitous and expected. This haunted world begs for further exploration. Though it's a perfectly enjoyable tale on a purely superficial level, readers who choose to dig deeper will find an engrossing exploration of complicated grief and what damage may be wrought when negative emotions are barricaded away rather than addressed. A fun and fast-paced supernatural mystery with secret depths for those who dare explore them."

"National Book Award winner Alexander (Goblin Secrets, 2012) displays strong writing chops. His latest is perfect for kids who like their creepy moments mixed with wildly imaginative elements (like a motorcycle-riding spirit who denies he's dead). This should see plenty of circulation."
— Karen Cruze

Rosa is feisty as well as totally competent, and her no- nonsense ways match the plot's breakneck speed...The story behind the haunting is intriguing, and it's skillfully revealed in bits and pieces, but it never overshadows Rosa's much more interesting spirit hunting. Kids who prefer Ghostbusters to Goosebumps will find this right up their alley.

"National Book Award winner Alexander (Goblin Secrets) neatly inverts the typical ghost story, creating a supernatural landscape in which hauntings are part of the fabric of life and go hand in hand with respecting and honoring the departed. The friends' realization that they must rely on themselves, not their parents, is relatable and poignant: Rosa's efforts to accept her mother's shortcomings and Jasper's struggle to find his inner hero add depth to this charming mystery."