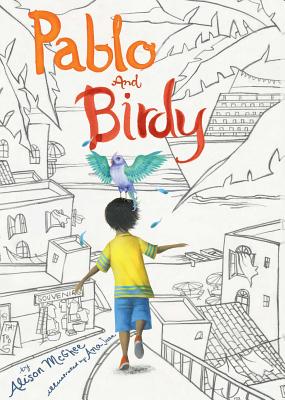 Pablo and Birdy
Hardcover

* Individual store prices may vary.
Description
A boy who drifted into the seaside town of Isla as a baby searches for answers about where he and his parrot came from in this charmer of a tale laced with magical realism from New York Times bestselling author Alison McGhee.

The seaside town of Isla has many stories, the most notable being the legend of the Seafaring Parrot. Locals claim that the Seafarer remembers every sound, every whisper, cry, laugh, or snort ever uttered. But, though there have been rumored Seafarer sightings, no one has actually seen the bird before. Other stories surround a boy named Pablo, who had washed up on shore in a blow-up swimming pool as an infant with only a lavender parrot as a companion. Now, on the eve of his tenth birthday, the stories are repeated.

"At first I thought it was a huge fish," Emmanuel, the man who found and took Pablo in, says. Pierre, the baker's guess was a good one: Perhaps Pablo has come from an undiscovered country, one unknown to the rest of the world. Maybe the inhabitants there lived in tree houses, or underground. Or maybe he's a pirate baby. But Pablo wants the truth, and the only one who might know it is Birdy, his parrot. After all, she was there, holding onto the raft. But unlike most birds who live in Isla, Birdy can neither talk or fly. Or, at least, she never has. Until…one day, when strong winds begin to blow—winds similar to the ones that brought Pablo to shore—Birdy begins to mutter. Could Birdy be a Seafaring parrot? If she is, then she will be able to tell Pablo the true story of where he came from—of who tied him so lovingly and safely to that raft? But, if she is, that also means the second part of the Seafarer myth is true…that Seafaring Parrots will, eventually, fly away.

As Pablo is buzzing with questions, hopes, and fears, an old saying echoes in his mind: winds of change mean fortune lost or fortune gained. And while the winds rise in Isla, Pablo holds tight to Birdy. Would losing his companion, his dearest link to his past, be that loss?
Praise For Pablo and Birdy…
It has been 10 years since Pablo landed on the shores of the diverse community of Isla, with his lavender parrot, Birdy, in tow, to be adopted by Cuban-American Emmanuel. Pablo, no longer satisfied with the origin stories the adults tell him, wants the truth: who put him in the water, and why? And after 10 years, flightless Birdy is now attempting to fly. Isla, famed for its birds, is also famous for the legend of the Seafaring Parrot, a mystical bird said to be able to reproduce any sound in the world. Winds of change, meaning "fortune lost or fortune gained," are coming to Isla. Rumors of Seafarer sightings attract tourists and newscasters to the island in search of the legendary bird. Pablo wonders if Birdy is the Seafarer of legend. McGhee deftly weaves the narrative of Pablo and Birdy with chapters from the point of view of a little, hungry dog who steals baked goods. Further adding to the quirkiness of the tale is the Committee of island birds, all of whom display boatloads of personality despite being limited to parroted speech. Readers will not be surprised at the true nature of Birdy's identity, and they will cheer to see how the community comes together to protect it from outside forces. Birdy and Pablo's relationship, the strongest aspect of the story, has a bittersweet but satisfying ending. A quiet, memorable, fantastical tale beautifully complemented by Juan's illustrations. (Magical realism. 8-12)
— Kirkus, STARRED REVIEW

An exploration of family and how sometimes special bonds demand great sacrifices. Pablo washed up on the beach of Isla strapped to a baby pool 10 years ago, along with Birdy, a flightless parrot. Where he came from and how he ended up in the ocean with only Birdy to watch over him are mysteries—ones Pablo allows himself to think about only on the anniversary of that fateful day. Isla is a picturesque beachside town famous for its birds, including one whose existence has never been verified: the Seafaring Parrot, who, according to local legend, has seen all and remembers all. As the anniversary of Pablo's arrival nears, a storm is predicted that will bring with it the "winds of change," which spell fortune lost or fortune gained. The only one who may know about Pablo's origins is Birdy. But unlike many of the birds on the island, Birdy doesn't talk. That is, until the winds of change arrive. By the time the storm is over, Pablo will have felt a whirlwind of emotions and learned that feeling sad about what he has lost doesn't take away from what he has achieved. VERDICT This understated book will appeal to readers who savor interpersonal relationships more than action-packed plots.


— School Library Journal

Pablo was a baby when the "winds of change" guided him to the island of Isla, an inflatable swimming pool as his raft and a protective, curiously colored bird by his side. As Pablo's 10th birthday approaches, his frustration over his lost history flares while Birdy remains flightless and silent. Then the winds of change and their promise of "fortune lost or fortune gained" return to Isla, this time bringing a pastry-thieving dog and a reporter seeking a mythical seafaring parrot, as well as strange behavior from Birdy. McGhee's (Firefly Hollow) tender tale of the search for home, belonging, and identity smoothly incorporates elements of magical realism and powerful allusions to the refugee experience; for various reasons, most of Isla's residents have chosen to make new lives there, something Pablo questions in hopes of better understanding his own past. Playful humor, often involving the Committee—a group of chatty, free-roaming birds that judges the fashion choices of passersby and stirs up trouble—deftly counterbalances the emotional weight of this moving tale.
— Publishers Weekly *STARRED REVIEW
Atheneum/Caitlyn Dlouhy Books, 9781481470261, 304pp.
Publication Date: August 22, 2017
About the Author
Alison McGhee is the New York Times bestselling author of Someday, as well as Dear Sister, Dear Brother, Pablo and Birdy, What I Leave Behind, Where We Are, Maybe a Fox with Kathi Appelt, Firefly Hollow, Little Boy, So Many Days, Star Bright, and A Very Brave Witch, to name a few. She lives in Minneapolis, Minnesota, and Laguna Beach, California. You can visit her at AlisonMcGhee.com.

Ana Juan is the illustrator of Elena's Serenade by Campbell Geeslin, which School Library Journal called "a fascinating adventure that explores issues of gender roles, self-confidence, and the workings of an artist's heart" in a starred review. Her paintings have appeared on the cover of The New Yorker, on book and album jackets, on film festival posters, and in several European magazines. She is also the illustrator of Frida by Jonah Winter and the author and illustrator of The Night Eater. She lives in Madrid, Spain.
or
Not Currently Available for Direct Purchase