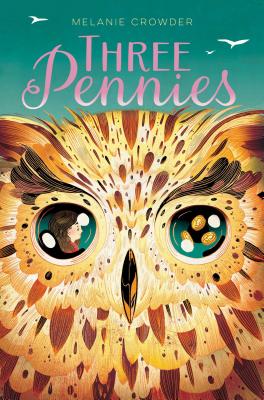 Three Pennies
Hardcover

* Individual store prices may vary.
Other Editions of This Title:
Paperback (5/29/2018)
Description
A girl in foster care tries to find her birth mother before she loses her forever in this spare and beautifully told novel about last chances and new opportunities.

For a kid bouncing from foster home to foster home, The Book of Changes is the perfect companion. That's why Marin carries three pennies and a pocket-sized I Ching with her everywhere she goes. Yet when everything in her life suddenly starts changing—when Marin lands in a foster home that feels like somewhere she could stay, maybe forever—the pennies don't have any answers for her.

Marin is positive that all the wrongs in her life will be made right if only she can find her birth mother and convince her that they belong together. Marin is close, oh so close—until she gets some unwelcome news and her resolve, like the uneasy Earth far beneath the city of San Francisco, is shaken.
Praise For Three Pennies…
*"This moving story is carefully crafted, woven together in short, short chapters focusing on different characters… The imminent earthquake and the threat of another failed placement add further suspense to a moving narrative that, at its heart, considers family bonds. The inclusion of Owl will alert readers that this tale is not entirely realistic, but it is entirely satisfying. A beautifully written and thoroughly modern family breaking-and-making story."
— Kirkus Reviews, 3/1/17 STARRED REVIEW

*"The language of this short and intense story is spare and evocative, and the chapters are brief and impressionistic…Marin is endearing, and readers will worry about her as she plunges headfirst into catastrophe. VERDICT: This tender tale of human frailty tugs at heartstrings and will satisfy tweens who like to read with a tissue handy."
— School Library Journal, March 2017 STARRED REVIEW

"Crowder's sensitive tale has a poetic, lyrical quality that should entrance readers; most chapters are no longer than a page or two, shifting attention among characters (and, at times, switching to second person) in a way that creates a sense of community and togetherness. Marin is resourceful, determined, and brave, and although her life is not easy, her hope is powerfully felt."
— Publishers Weekly, May 8, 2017

"The book is brimming with carefully restrained emotion…Simple but deeply symbolic imagery abounds with the actions and reactions of natural forces mirroring the disturbances in Marin's equilibrium. The scene in which Marin finally finds her biological mother is brief but gut wrenching…Marin's struggle to reconcile her hopes with her reality is authentically portrayed, as is her final acceptance of Lucy's love. Readers will be reminded that much of life is merely controlled chaos, and when that chaos bends toward kindness and comfort, one should hold fast and tight."
— BCCB, March 2017

"Crowder illuminates the extent to which Marin is unable to grasp the love and possibility that awaits if she can accept her birth mother's choice…Marin's emotional landscape remains utterly true. Crowder's keen sense of storytelling, even in the smallest moments, shines in this moving exploration of the mother-child bond."
— Booklist, March 15, 2017

"A contemplative, rich, and beautifully written story that honors foster-to-adoptive families."
— The Horn Book
Atheneum Books for Young Readers, 9781481471879, 192pp.
Publication Date: May 2, 2017
About the Author
Melanie Crowder lives on the Colorado Front Range, where she is a writer and educator. She holds an MFA in writing from Vermont College of Fine Arts. She is the author of the middle grade novels Parched, A Nearer Moon, and the Lighthouse Keepers series and the young adult novels Audacity and An Uninterrupted View of the Sky. Visit her at MelanieCrowder.com.
or
Not Currently Available for Direct Purchase