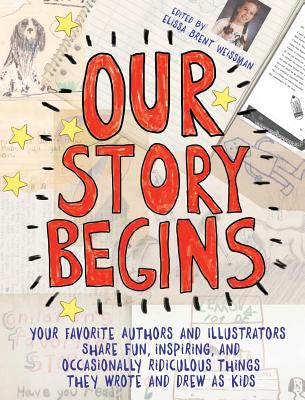 Our Story Begins
Your Favorite Authors and Illustrators Share Fun, Inspiring, and Occasionally Ridiculous Things They Wrote and Drew as Kids
Hardcover

* Individual store prices may vary.
Other Editions of This Title:
Paperback (6/26/2018)
Description
From award-winning author Elissa Brent Weissman comes a collection of quirky, smart, and vulnerable childhood works by some of today's foremost children's authors and illustrators—revealing young talent, the storytellers they would one day become, and the creativity they inspire today.

Everyone's story begins somewhere…

For Linda Sue Park, it was a trip to the ocean, a brand-new typewriter, and a little creative license.
For Jarrett J. Krosoczka, it was a third grade writing assignment that ignited a creative fire in a kid who liked to draw.
For Kwame Alexander, it was a loving poem composed for Mother's Day—and perfected through draft after discarded draft.
For others, it was a teacher, a parent, a beloved book, a word of encouragement. It was trying, and failing, and trying again. It was a love of words, and pictures, and stories.

Your story is beginning, too. Where will it go?
Praise For Our Story Begins: Your Favorite Authors and Illustrators Share Fun, Inspiring, and Occasionally Ridiculous Things They Wrote and Drew as Kids…
"Twenty-six notable authors and illustrators of children's books—including the book's editor—introduce themselves via their childhood memories.The short, straightforward introduction begins with the editor sharing her inspiration for the book.... Two years of interviewing, collecting, and collating produced the accessible, enjoyable text that follows. Each creator shares a childhood photograph, a brief memoir, a short biography, and a photographed sample of a creative work from childhood.... The art and writing samples from childhood are occasionally exciting but more often typical of the age represented—and thus encouraging rather than intimidating to young creatives. The memoirs—all (unsurprisingly) engaging—range from humorous to serious, and some slip in good advice, both about the tools of the craft and about self-marketing. There is a wide diversity of ages and backgrounds, from Phyllis Reynolds Naylor to Alex Gino, from Eric Rohmann to Rita Williams-Garcia. Thanhhà Lai is especially memorable; as a Vietnamese refugee, she had no box of writings: "But it turns out, I don't need tangible objects. I have my memories." Her recollection of an oral prose poem from age 8 is one that stands out because it is indeed remarkable for one so young. Good for aspiring writers and artists."
— Kirkus Reviews, May 2017

"Firsthand accounts from 26 children's authors and illustrators describe how their earliest writing or drawing experiences resulted in a career in kid lit.... An attractive cover, glossy pages, and writing tips will make this a great addition to collective biography or career sections. VERDICT: An authentic, generous, and inspiring selection for tweens who wonder where their doodling or journaling might take them."
— School Library Journal, May 2017

"The best authors and artists make their work seem so effortless that it's easy to assume they're all preternaturally gifted; it's easy to forget the inevitable time and labor that went into their work, and this collection is the perfect remedy to that misapprehension. In short sections, children's literature luminaries offer short essays about their early artistic efforts and snippets of their early work...the main takeaway, of course, is that hard work and practice, as well as a lot of inevitable failure, is always part of honing a craft. A sweet, inspirational anthology for any kid who dreams of one day having their own name on the cover of a book."
— Booklist, June 2017

"This collection offers a lively glimpse of the artistic starts of twenty-six writers and illustrators for youth, with notable contributors such as Kwame Alexander, Dan Santat, Phyllis Reynolds Naylor, and Linda Sue Park . . . The snapshots of the artists as young men and women are engaging and irreverent . . . There are a lot of shoutouts to influential teachers, a lot of early imitation (rightly recognized as a valid exercise), and a clear message throughout that this early work counts, whether you finish it, whether it's completely original, whether it wins you the regard you hoped… this has curricular use written all over it (there's even tips for young writers at the end) and the encouragement is strong and valuable. Plenty of young readers will salivate at the notion of living the dream described by Jarrett J. Krosoczka: 'What I do now for my job is exactly what I did for fun when I was a kid.'"
— BCCB

"Twenty-six children's book creators reflect on the stories and art they produced in their youth. Each section includes a brief essay by the author or illustrator, images of the work in its (often handwritten) original form, and a bio that shows what came out of that work in the contributor's adulthood. Many entries are amusingly self-effacing: Dan Santat remembers a tantrum at age five because he couldn't draw as well as Norman Rockwell, and Candace Fleming recalls transferring the Newbery sticker from The Witch of Blackbird Pond to her own short story. Young aspiring writers and artists should find reassurance in the early foibles of those now successful in the field. But the volume also shows examples of developing talent—check out teenaged Ashley Bryan's drawings!"

— The Horn Book Magazine, November/December 2017
Atheneum Books for Young Readers, 9781481472081, 208pp.
Publication Date: July 4, 2017
About the Author
Elissa Brent Weissman is the author of The Short Seller, Nerd Camp, Nerd Camp 2.0, Standing for Socks, The Trouble with Mark Hopper, and the editor of Our Story Begins. She lives in Baltimore, Maryland. Visit her at EBWeissman.com.

Kathi Appelt is the author of the Newbery Honoree, National Book Award finalist, and bestselling The Underneath as well as the National Book Award finalist The True Blue Scouts of Sugar Man Swamp, Maybe a Fox (with Alison McGhee), Keeper, and many picture books including Counting Crows and Max Attacks. She has two grown children and lives in College Station, Texas, with her husband. Visit her at KathiAppelt.com.

Ashley Bryan (1923–2022) grew up to the sound of his mother singing from morning to night, and he shared the joy of song with children. A beloved illustrator, he was named a Newbery Honoree for his picture book, Freedom Over Me. He also received the Coretta Scott King—Virginia Hamilton Lifetime Achievement Award; the Laura Ingalls Wilder Award; was a May Hill Arbuthnot lecturer; a Coretta Scott King Award winner; and the recipient of countless other awards and recognitions. His books include Freedom Over Me; Sail Away; Beautiful Blackbird; Beat the Story-Drum, Pum Pum; Let It Shine; Ashley Bryan's Book of Puppets; and What a Wonderful World. He lived in Islesford, one of the Cranberry Isles off the coast of Maine.

Tim Federle is the showrunner and executive producer of High School Musical: the Musical: the Series, which he created for Disney+. His novels include the New York Times Notable Book Better Nate Than Ever and its Lambda Literature Award–winning sequel—which Lin-Manuel Miranda called "a wonderful evocation of what it's like to be a theater kid" (New York Times). A film adaptation of Nate, written and directed by Federle, will premiere on Disney+ in spring 2022. The film stars Aria Brooks, Joshua Bassett, Lisa Kudrow, and Rueby Wood as Nate. Tim's hit series of cocktail recipe books, including Tequila Mockingbird, have sold over half a million copies worldwide. He cowrote the Broadway musical adaptation of Tuck Everlastingand won the Humanitas Prize for cowriting the Golden Globe and Academy Award–nominated Best Animated Feature Ferdinand, starring John Cena and Kate McKinnon. A former Broadway dancer, Tim was born in San Francisco, grew up in Pittsburgh, and now divides his time between Los Angeles and the internet.

Candace Fleming is the acclaimed author of numerous books for children, including the Bulldozer books; Ben Franklin's Almanac, an ALA Notable Book and an ALA Best Book for Young Adults, as well as Muncha! Muncha! Muncha!, Gabriella's Song, and When Agnes Caws, all ALA Notable Books. She lives in a suburb of Chicago.

Marla Frazee is a Boston Globe–Horn Book Award for Picture Book and two-time Caldecott Honor winner. She is the author-illustrator of many books, including The Boss Baby, the book that inspired the DreamWorks Animation film Boss Baby. She has illustrated many acclaimed picture books, including God Got a Dog by Cynthia Rylant; Stars by Mary Lyn Ray; and Everywhere Babies by Susan Meyers. She is also the illustrator of the New York Times bestselling Clementine chapter books by Sara Pennypacker. The mother of three grown sons, she lives in Pasadena, California. Visit her at MarlaFrazee.com.

Jarrett Krosoczka graduated from the Rhode Island School of Design and is the author and illustrator of many great picture books including Punk Farm, Good Night, Monkey Boy, Baghead, Max for President, and the Lunch Lady graphic novel series. He lives in Northampton, MA, with his family.

Peter Lerangis is the author of many books for young readers, including wtf, Smiler's Bones, the Watchers series, The Sword Thief, and the New York Times bestselling 39 Clues series. Peter lives with his wife and two sons in New York City. Visit him at PeterLerangis.com.

Phyllis Reynolds Naylor has written more than 135 books, including the Newbery Award–winning Shiloh and its sequels, the Alice series, Roxie and the Hooligans, and Roxie and the Hooligans at Buzzard's Roost. She lives in Gaithersburg, Maryland. To hear from Phyllis and find out more about Alice, visit AliceMcKinley.com.

Linda Sue Park is the author of many novels and picture books, including A Single Shard, the 2002 Newbery Medal winner, and the New York Times bestseller A Long Walk to Water. Her most recent title is Prairie Lotus, historical fiction for middle grade readers. She is honored to serve on the advisory boards for SCBWI, WNDB, and the Rabbit hOle museum project. Visit her website at LindaSuePark.com and follow her on Twitter @LindaSuePark.

Dan Santat is the Caldecott Medal–winning and New York Times bestselling author and illustrator of The Adventures of Beekle: The Unimaginary Friend, as well as the illustrator of many other picture books, including Crankenstein by Samantha Berger. Dan lives in Southern California with his wife, two kids, and various pets.

Brian Selznick is the author and illustrator of the bestselling The Invention of Hugo Cabret, which was awarded the Caldecott Medal and was a National Book Award finalist. He is also the illustrator of many books for children, including Frindle and Lunch Money by Andrew Clements, as well as the Doll People trilogy by Ann M. Martin and Laura Godwin, and The Dinosaurs of Waterhouse Hawkins by Barbara Kerley, which was a Caldecott Honor Book. Mr. Selznick divides his time between Brooklyn, New York, and San Diego, California.

Rita Williams-Garcia is a writer of novels for children and young adults.

Eric Rohmann is the Caldecott Medal–winning illustrator of My Friend Rabbit and received a Caldecott Honor for Time Flies. He has both written and illustrated numerous books for children, including Bulldozer's Big Day, Honeybee, and most recently Bulldozer's Christmas Dig, all written by Candace Fleming. He lives in Oak Park, Illinois. Find out more at EricRohmann.com.