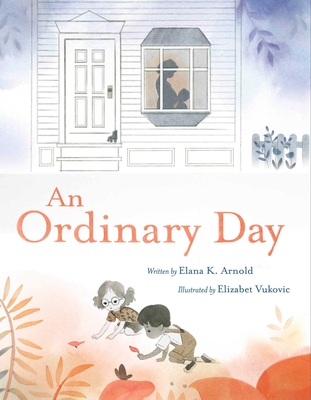 An Ordinary Day
Hardcover

* Individual store prices may vary.
Description
An ordinary day in an ordinary neighborhood turns out to be quite extraordinary in this moving story about the circle of life.

It's an average day in the neighborhood—children play, roses are watered, and a crow watches over it all. But then two visitors arrive at two houses, one to help a family say hello to a new baby and one to help a family say goodbye to a beloved pet. This sensitive picture book takes a gentle look at life, death, the bonds of family, and the extraordinary moments that make ordinary days so special.
Praise For An Ordinary Day…
On any given day in this idyllic suburban neighborhood, children play, plants are watered, and people come and go from houses. On this day, those ordinary things are happening—but also so much more. In two houses, side by side, a quiet waiting occurs. Two visitors arrive, each with a stethoscope and small bag. In one home, a racially diverse family of two women and three children has come to the sad decision that their beloved dog must be put to sleep. Meanwhile, next door, a brown-skinned man, woman, and child await the arrival of a new baby. Vucovi's softly colored illustrations, rendered in subdued charcoal, pastel, watercolor, ink, and graphite, contrast the concurrent events. Perspective is anchored by the ominous, unifying presence of "Magnificent the Crow," a bird that appears on the first page and departs in the final spread, providing readers with a safe distance from this universal but deeply intimate narrative. Profound in the way it underscores how "life-changing" events are happening all the time—even as regular life continues—this book is especially effective at communicating big, difficult concepts to children in terms they will understand, despite—or, perhaps, because of—being quiet and understated. Many will be moved by the artful book design and a thoughtfully simple text that delineate an extraordinary ordinary day.
— Booklist *Starred*
Beach Lane Books, 9781481472623, 40pp.
Publication Date: March 10, 2020
About the Author
Elana K. Arnold writes books for and about children and teens. She holds a master's degree in creative writing/fiction from the University of California, Davis, where she has taught creative writing and adolescent literature. She is a frequent speaker at schools, libraries, and writers' conferences. She is the author of several acclaimed young adult novels including the Printz Honor book Damsel and National Book Award finalist What Girls Are Made of, as well as her picture books All by Himself?, What Riley Wore, and An Ordinary Day. Currently, Elana is the caretaker of seven pets, only two of which have fur. She lives in Long Beach, California, and you can visit her at ElanaKArnold.com.

Elizabet Vukovic is a freelance illustrator born in Rotterdam, the Netherlands, where she still resides. As a kid she had quite an imagination, which she expressed mostly on paper, since acting out her ideas was an annoyance to her siblings. She now devotes herself fulltime to illustration for children and other venues. When not obsessing about art (which isn't very often) Elizabet enjoys long bicycle rides, traveling, and bugging her elderly cats.