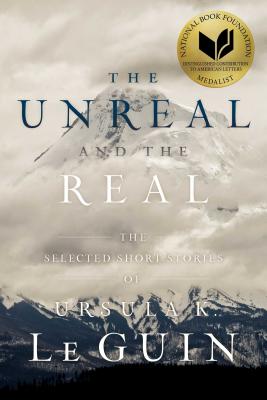 The Unreal and the Real
The Selected Short Stories of Ursula K. Le Guin
Paperback

* Individual store prices may vary.
Description
A collection of short stories by the legendary and iconic Ursula K. Le Guin—selected with an introduction by the author, and combined in one volume for the first time.

The Unreal and the Real is a collection of some of Ursula K. Le Guin's best short stories. She has won multiple prizes and accolades from the Medal for Distinguished Contribution to American Letters to the Newbery Honor, the Nebula, Hugo, World Fantasy, and PEN/Malamud Awards. She has had her work collected over the years, but this is the first short story volume combining a full range of her work.

Stories include:
-Brothers and Sisters
-A Week in the Country
-Unlocking the Air
-Imaginary Countries
-The Diary of the Rose
-Direction of the Road
-The White Donkey
-Gwilan's Harp
-May's Lion
-Buffalo Gals, Won't You Come Out Tonight
-Horse Camp
-The Water Is Wide
-The Lost Children
-Texts
-Sleepwalkers
-Hand, Cup, Shell
-Ether, Or
-Half Past Four
-The Ones Who Walk Away from Omelas
-Semely's Necklace
-Nine Lives
-Mazes
-The First Contact with the Gorgonids
-The Shobies' Story
-Betrayals
-The Matter of Seggri
-Solitude
-The Wild Girls
-The Flyers of Gy
-The Silence of the Asonu
-The Ascent of the North Face
-The Author of the Acacia Seeds
-The Wife's Story
-The Rule of Names
-Small Change
-The Poacher
-Sur
-She Unnames Them
-The Jar of Water
Gallery / Saga Press, 9781481475976, 752pp.
Publication Date: November 7, 2017
About the Author
Ursula K. Le Guin (1929–2018) was the celebrated author of twenty-three novels, twelve volumes of short stories, eleven volumes of poetry, thirteen children's books, five essay collections, and four works of translation. Her acclaimed books received the Hugo, Nebula, Endeavor, Locus, Tiptree, Sturgeon, PEN-Malamud, and National Book Awards, a Newbery Honor, and the Pushcart and Janet Heidinger Kafka Prizes, among others. In 2014, she was awarded the National Book Foundation Medal for Distinguished Contribution to American Letters, and in 2016 joined the short list of authors to be published in their lifetimes by the Library of America. Le Guin was also the recipient of the Association for Library Service to Children's May Hill Arbuthnot Honor Lecture Award and the Margaret Edwards Award. She received lifetime achievement awards from World Fantasy Awards, Los Angeles Times, Pacific Northwest Booksellers Association, and Willamette Writers, as well as the Science Fiction and Fantasy Writers of America Grand Master Award and the Library of Congress Living Legends Award. Her website is UrsulaKLeGuin.com.