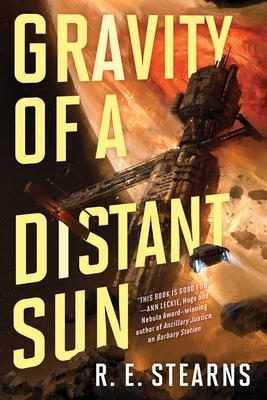 Gravity of a Distant Sun (Shieldrunner Pirates #3)
Paperback

* Individual store prices may vary.
Description
Adda and Iridian have survived the murderous AI that tried to kill them in Barbary Station and an evil megacorporation in Mutiny at Vesta but now they'll need all of their ingenuity to make it to the end of this epic trilogy.

Adda Karpe and Iridian Nassir are on the run—both from the authorities who want to imprison them and the artificial intelligence that want to control their minds. Trapped on a desolate black-market space station on the edge of Jupiter, they're nearly out of allies—and out of luck.

Now, they have one last shot to find a safe haven where they can live together in peace—across the interstellar bridge to another galaxy. Getting onto that mission will take everything they've got and more. But on the other side of that bridge lies the life they've always dreamed of...if they can survive long enough to reach it.
Praise For Gravity of a Distant Sun (Shieldrunner Pirates #3)…
If Barbary Station was a variant on the gothic novel in space (complete with a haunted house in the form of a space station), Mutiny at Vesta is a nested, layered series of capers in which Adda and Iridian work with limited resources and the pressure of time and other people's competing priorities to pull off the damn-near impossible.
— Tor.com

Stearns's second space opera is heavy on rousing action scenes, political intrigue, and high AI weirdness…
— Publishers Weekly

The book truly is a blend of space opera and military sci fi, and consistently wriggles between the crew interactions and feeeeeelings, to command structures, heavily explained tech, and A.I. workspaces.
— J.S. Fields, author of Ardulum

Fans of space opera, female protagonists, and independent thinkers will enjoy this piece of science fiction…
— Booklist

Stearns writes measured, tense, and intense space opera, filled with a diverse selection of believable characters.
— Tor.com

"An exhilarating mashup of Golden-Age widescreen and zeitgeist cool. Totally unexpected. More please!"
— Award-winning author Stephen Baxter

"This book is good fun. I really enjoyed this, and I bet you will, too."
— Ann Leckie, Hugo and Nebula Award-winning author of Ancillary Justice

"Grabs you in chapter one and doesn't let go. This book is for everyone who ever wanted to be a space pirate."
— Mur Lafferty, Award-winning author of Six Wakes

"A super cool novel. It mixes unpredictable mysteries, a murderous AI, space battles, an awesome and fashionable Pirate Leader in Captain Sloane as well as a healthy dose of romance and found families...a blend of Die Hard and the Illuminae Files."
— Kirkus Reviews

"Strong characters and fast-paced action define this debut SF thriller."
— Library Journal

"A worthwhile finale to a fun SF adventure series."
— Kirkus Reviews
Gallery / Saga Press, 9781481476935, 432pp.
Publication Date: February 18, 2020
About the Author
R.E. Stearns is the author of Barbary Station and Mutiny at Vesta. She wrote her first story on an Apple IIe computer and still kind of misses green text on a black screen. She went on to annoy all of her teachers by reading books while they lectured. Eventually she read and wrote enough to earn a master's degree in curriculum and instruction from the University of Central Florida. She is hoping for an honorary doctorate. When not writing or working, R.E. Stearns reads, plays PC games, and references internet memes in meatspace. She lives near Orlando, Florida, with her husband, a computer engineer, and a cat.
or
Not Currently Available for Direct Purchase