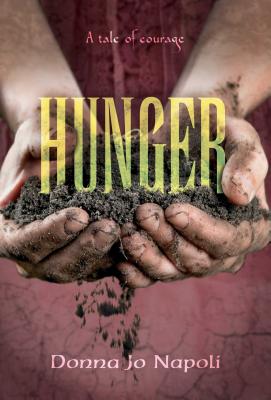 Hunger (Hardcover)
A Tale of Courage
Simon & Schuster/Paula Wiseman Books, 9781481477499, 272pp.
Publication Date: February 13, 2018
Other Editions of This Title:
MP3 CD (3/6/2018)
Compact Disc (3/6/2018)
* Individual store prices may vary.
Description
"The first-person narrative portrays Lorraine's family and community with realistically drawn personalities and relationships as well as fine-tuned ethical dilemmas, while sketching in the backdrop of the wider catastrophe. A moving personal story." —Booklist (starred review)

"Napoli skillfully evokes Lorraine's close-knit community, interweaving elements of Irish culture, history, and land- and seascape in ways that make the story accessible and appealing…a timely reminder about conditions in our current world." —The Horn Book

Through the eyes of twelve-year-old Lorraine this haunting novel from the award-winning author of Hidden and Hush gives insight and understanding into a little known part of history—the Irish potato famine.

It is the autumn of 1846 in Ireland. Lorraine and her brother are waiting for the time to pick the potato crop on their family farm leased from an English landowner. But this year is different—the spuds are mushy and ruined. What will Lorraine and her family do?

Then Lorraine meets Miss Susannah, the daughter of the wealthy English landowner who owns Lorraine's family's farm, and the girls form an unlikely friendship that they must keep a secret from everyone. Two different cultures come together in a deserted Irish meadow. And Lorraine has one question: how can she help her family survive?

A little known part of history, the Irish potato famine altered history forever and caused a great immigration in the later part of the 1800s. Lorraine's story is a heartbreaking and ultimately redemptive story of one girl's strength and resolve to save herself and her family against all odds.
About the Author
Donna Jo Napoli is the acclaimed and award-winning author of many novels, both fantasies and contemporary stories. She won the Golden Kite Award for Stones in Water in 1997. Her novel Zel was named an American Bookseller Pick of the Lists, a Publishers Weekly Best Book, a Bulletin Blue Ribbon, and a School Library Journal Best Book, and a number of her novels have been selected as ALA Best Books. She is a professor of linguistics at Swarthmore College in Pennsylvania, where she lives with her husband. Visit her at DonnaJoNapoli.com.
Praise For Hunger: A Tale of Courage…
"Napoli shows her considerable talent for drawing readers into her protagonist's world through Lorraine's frank, first-person account of her circumstances. The narrative, like Lorraine, is grounded in the natural world. Her imperious attitude—giving orders to Lorraine and ignoring the obvious poverty of the tenant farmers—is set against Lorraine's story, giving young readers a lens through which to understand the history of oppression. The author makes it clear in endnotes that it's worth noting the similarities to the plight of modern-day refugees. A worthy introduction to an important slice of history." --Kirkus
— Kirkus

It's one thing to read that many Irish people died of starvation during the 1840s potato famine. It's another thing entirely to watch it happen through the eyes of a 12-year-old girl. Lorraine awakens one morning to hear her father shouting in the field. Overnight, the potato plants' leaves have blackened. The family rushes to salvage the few wholly or partly edible spuds—their inadequate winter's food supply. Renting their land from an English landlord who ignores their plight, they are barely surviving, while throughout the country, families turned off their farms die of starvation, pneumonia, and tuberculosis. In this vivid narrative, Lorraine befriends the landlord's lonely, capricious daughter, who sometimes gives her food, but doesn't believe or even understand that starvation and death stalk Lorraine, her little brother, their parents, and their neighbors. The first-person narrative portrays Lorraine's family and community with realistically drawn personalities and relationships as well as fine-tuned ethical dilemmas, while sketching in the backdrop of the wider catastrophe. The back matter includes a glossary of Irish terms, a source bibliography, and a discussion of Irish history through 1851. A somber but uplifting historical novel that views a national tragedy through the lens of a moving personal story. — Carolyn Phelan
— Booklist *STARRED REVIEW*

"The Irish people of the time are portrayed as stoic, strong, and proud, but also as victims of the wealthy, ruling British class. The ending may leave some readers wondering about the characters' choices and perhaps disagree with them, which could foster lively discussions. This book fills a unique niche among historical fiction titles due to the subject matter and setting. The extensive back matter supports the authenticity of the story and provides opportunities for further study. " -- School Library Journal
— School Library Journal

"Napoli skillfully evokes Lorraine's close-knit community, interweaving elements of Irish culture, history, and land- and seascape in ways that make the story accessible and appealing. Lorraine's affection for her family and solidarity with her starving friends deepen the sense of personal tragedy endemic to this terrible era. In an appended author's note, Napoli emphasizes the courage it takes for refugees to leave a country in crisis, and the courage it takes for those who choose to stay—a timely reminder about conditions in our current world. " -- The Horn Book
— The Horn Book Magazine

"If ever there was a book primed to show American children why families from other countries are often desperate to reach out shores, this is it… Careful pacing – from a descriptive evocation of life among lush green fields through the gradually accelerating drumbeat of death, starvation and debilitating disease – adds drama, bringing home just how capricious fate can be, and on what small choices a life can be spared or lost. Her ability to switch back and forth between characters, especially in conversations, feels effortless. Equally seamless is her incorporation of the occasional expository rant – usually placed in the mouths of the adults but overhead by the ever watchful children – about historical events as well as the laws governing their options for redress." BOOKLIST, starred review (this text refers to the audio edition).


— Booklist STARRED REVIEW