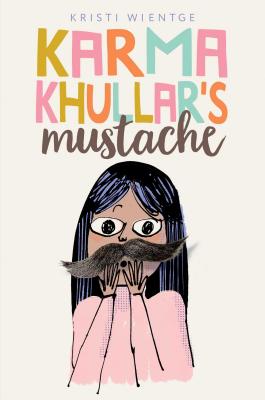 Karma Khullar's Mustache (Hardcover)
Simon & Schuster Books for Young Readers, 9781481477703, 272pp.
Publication Date: August 15, 2017
Other Editions of This Title:
Paperback (8/14/2018)
Prebound (8/14/2018)
* Individual store prices may vary.
Description
"Kristi Wientge deftly captures the turmoil of adolescence." —Us Weekly

Debut author Kristi Wientge tackles the uncomfortable—but all too relatable—subject of female body hair and self-esteem with this sweet and charming novel in the tradition of Judy Blume.

Karma Khullar is about to start middle school, and she is super nervous. Not just because it seems like her best friend has found a newer, blonder best friend. Or the fact that her home life is shaken up by the death of her dadima. Or even that her dad is the new stay-at-home parent, leading her mother to spend most of her time at work. But because she's realized that she has seventeen hairs that have formed a mustache on her upper lip.

With everyone around her focused on other things, Karma is left to figure out what to make of her terrifyingly hairy surprise all on her own.
About the Author
Kristi Wientge is originally from Ohio where she grew up writing stories about animals and, her favorite, a jet-setting mouse. After studying to become a teacher for children with special needs, she spent several years exploring the world from China to England, teaching her students everything from English to how to flip their eyelids inside out. She's spent twelve years raising her family in her husband's home country of Singapore, where she spends her days ferrying her four kids to school and taking Punjabi and music lessons. With the help of her mother-in-law, she can now make a mean curry and a super-speedy saag. She is the author of Karma Khullar's Mustache and Honeybees and Frenemies. Visit her online at KristiWientge.com.
Praise For Karma Khullar's Mustache…
"You have a new BFF in Karma Khullar. Half Sikh, half Methodist, and 100% hilarious, Karma is a delight – and so is this sparkling and triumphant tale of a middle school misfit."
— Heather Vogel Frederick, author of the Mother-Daughter Book Club series

"In Karma Khullar's Mustache, Wientge's creates a poignant, complex, and humorous world for the strong, but sensitive Karma. A beautiful, streamlined read for anyone struggling with common middle school issues like friendship, identity, family problems, and body image."
— Veera Hiranandani, author of The Whole Story of Half a Girl

"I was immediately captivated. Growing up in a Panjabi household and having facial hair at the same age as Karma, her story and hardships sounded very similar to mine...I will most definitely be sharing this book, story and the lessons inside it to my younger siblings and future children."
— Harnaam Kaur

"Debut author Wientge has sensitive, anxious Karma confronting the universal preteen problems of self-esteem, bullying, and changing friendships, with everyday details of her interracial family's Sikh faith and culture seamlessly woven in . . . Readers will enjoy seeing how Karma navigates the complexities of adolescence, middle school, and the 17 hairs on her upper lip in this realistic and humorous story of new friendships and family support."
— Kirkus

"Debut author Wientge neatly captures how it feels to be different, especially as an adolescent . . . The novel's ending—hopeful but not completely happily-ever-after—sends a strong message of self-acceptance and resilience."
— Publishers Weekly

"Kristi Wientge deftly captures the turmoil of adolescence."
— Us Weekly

"Funny and relatable, this is a solid pick for those transitioning to middle school."
— Booklist

"This is a smoothly realistic and heartfelt exploration of an ordinary middle-schooler with problems aplenty and just enough courage to solve them."
— BCCB