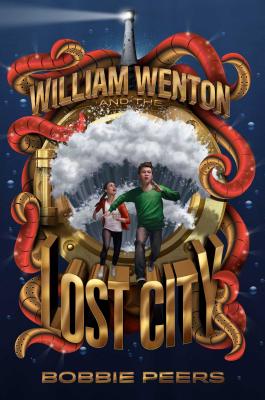 William Wenton and the Lost City (Hardcover)
Aladdin, 9781481478311, 256pp.
Publication Date: July 9, 2019
* Individual store prices may vary.
Description
William Wenton is a code-breaking genius, but when his secret talent is suddenly revealed, he has to face the danger that has been lurking around him for years in the third book in the William Wenton series that School Library Journal calls "part Alex Rider, part Da Vinci Code for kids, and part Artemis Fowl."

When a mysterious figure presents William with a strange pyramid-shaped puzzle, it sets in motion a series of events that sends William on a wild ride from Norway to England to the Mariana Trench, the deepest part of the ocean. Along the way, he'll discover that some of the people he knew can no longer be trusted and that the Institute for Post-Human Research is hiding a dark secret. He'll also discover an ancient civilization hidden under the ocean and a giant, mechanical, teleportation octopus.

And all the while the clock is ticking as William races to prevent the return of the man who wants to kill him and tries to solve the mystery of luridium.
About the Author
Bobbie Peers graduated from the London International Film School in 1999, and has since worked as a director, writer, and illustrator. His first short film, Sniffer, received the Palme d'Or for Best Short Film in Cannes 2006. In 2014, he made his feature film debut with The Disappearing Illusionist. He is the author of the William Wenton series.


Praise For William Wenton and the Lost City…
" . . . this series opener is a gripping story from early on, and the wonky twists and turns ramp up the excitement as readers learn more about William's family and this crazy metal at the core of the drama. . . . any kid who likes ciphers and codes will be drawn in, and there's plenty here to lure them back for the next outing."" -
— BCCB on Book 1, William Wenton and the Impossible Puzzle

"Part "Alex Rider," part "Artemis Fowl," part Da Vinci Code for kids, this title will captivate action and mystery enthusiasts."
— School Library Journal on Book 1, William Wenton and the Impossible Puzzle

"Peers' first novel follows the pattern of many such school and adventure stories—think Hogwarts with robots and carnivorous robotic plants—but there are plenty of twists to keep readers guessing. Appealing, resilient William makes realistic mistakes in judgment that often test that resilience. The crisp narrative will appeal to readers of different levels, and more adventures involving William Wenton will be welcome."
— Booklist on Book 1, William Wenton and the Impossible Puzzle

William Wenton is back in a new adventure packed with peril. The adventure leads to the Himalayas, a portal between worlds, a hint of unknown history, and tragedy. Not all is lost, however, and the stage is set for another adventure. Peers maintains a brisk pace throughout, and William and his friends are just as appealing as before.
— Booklist (on William Wenton and the Secret Portal)