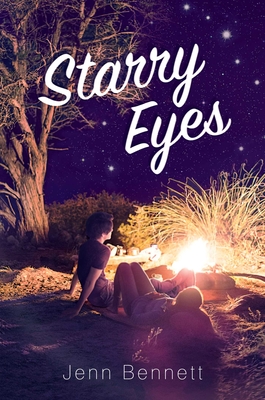 Starry Eyes
Hardcover

* Individual store prices may vary.
Other Editions of This Title:
Digital Audiobook (4/2/2018)
Paperback (1/8/2019)
MP3 CD (4/3/2018)
Compact Disc (4/3/2018)
Description
In this romantic dramedy from the author of Alex, Approximately, a teen girl's way-too-ordinary life is driven off the beaten path when she's abandoned in the wilderness with her worst adversary—the boy who broke her heart.

Ever since last year's homecoming dance, best friends-turned-best enemies Zorie and Lennon have made an art of avoiding each other. It doesn't hurt that their families are the modern day, Californian version of the Montagues and Capulets.

But when a group camping trip goes south, Zorie and Lennon find themselves stranded in the wilderness. Alone. Together.

What could go wrong?

With no one but each other for company, Zorie and Lennon have no choice but to hash out their issues via witty jabs and insults as they try to make their way to safety. But fighting each other while also fighting off the forces of nature makes getting out of the woods in one piece less and less likely.

And as the two travel deeper into Northern California's rugged backcountry, secrets and hidden feelings surface. But can Zorie and Lennon's rekindled connection survive out in the real world? Or was it just a result of the fresh forest air and the magic of the twinkling stars?
Praise For Starry Eyes…
Zorie is a typical high school nerd who is defined by quirky glasses that match her outfits and her love of astronomy. The summer before senior year is going just as she planned in her bullet journal. That is until she is invited to go glamping—glamorous camping—with her friend Reagan. Zorie's careful plans are demolished. She has also found out an awful secret about her father. To compound the situation, boys are going on the trip too, including her former best friend Lennon and her crush Brett. It turns into an awful situation when Zorie and Reagan get in a huge fight and Reagan leaves Zorie and Lennon stranded at the resort. Zorie is devastated about her night with Reagan and about missing the meteor shower party she was supposed to attend near the glamping resort. In addition, Zorie does not want to go home and deal with her family issue. Luckily, Lennon the hiking expert convinces Zorie that the meteor shower party is not too far from where they are and that it would be easy to hike there. Vivid plots, and endearing characters make this novel impossible to put down. The plot is fun and relatable, and the love story is compelling. Bennett uses the wilderness, away from cell phones and Internet service, to create a perfect setting for Zorie's coming of age and budding relationship. VERDICT A fabulous read for YA shelves.
— School Library Journal

Once upon a time, Zorie and Lennon were best friends. Sure, things weren't great with their families—Lennon's two moms opened up a sex shop next door to Zorie's dad and stepmom's massage and acupuncture wellness clinic, and her dad is convinced that's why business is dropping—but that never used to matter. Now, for reasons neither one of them really understands, Zorie and Lennon are practically mortal enemies. There's no sign of things changing anytime soon, until a group camping trip gone wrong ends with Zorie and Lennon stranded in the Northern California wilderness together. Thankfully, Lennon has a few wilderness survival skills up his sleeve, but even here, secrets have a way of coming out—if Lennon and Zorie don't kill each other, they may just make it out of this alive. Bennett (Alex, Approximately, 2017) nails Lennon and Zorie's will-they-won't-they dynamic, and the California backcountry offers a striking, high-stakes backdrop. A layered adventure-love story that's as much about the families we have and the families we make ourselves as it is about romance. — Maggie Reagan
— Booklist

Former best friends (and crushes) rediscover each other on a backpacking trip in Bennett's (Alex, Approximately, 2016, etc.) charming romance novel.

It's the summer after junior year, and anxious, risk-averse Zorie Everhart uncharacteristically agrees to join popular classmate Reagan and her friends on a luxury glamping vacation in northern California, figuring she can still manage to meet up with fellow astronomers to witness a meteor shower on a nearby mountain. On the day of departure, Zorie realizes with dread that her neighbor Lennon Mackenzie is going too. Zorie (who's white and being raised by a Korean-American stepmother) and Lennon (who has two white moms and an Egyptian-American biological father) were once inseparable but haven't really talked since the incident at homecoming when he broke her heart. Lennon—–a horror fanboy, amateur herpetologist, and music aficionado—–turns out to also be a veteran hiker. When irresponsible behavior and a night of emotional confrontations leads the group to abandon the pair, they take a multi-day journey to reach the star-gazing party by themselves. The two have lots of literal and figurative ground to cover, and eventually resolve and move past old hurts. The author authentically explores serious subjects such as grief, betrayal, divorce, and loss—–but there's also plenty of humor, geeky asides, and a healthy portrayal of consensual sex between mature teens.

A sweet and surprisingly substantial friends-to-more romance. (Fiction. 14-18)
— Kirkus STARRED REVIEW

"A sweet and surprisingly substantial friends-to-more romance." -- Kirkus, STARRED REVIEW

"Vivid plots, and endearing characters make this novel impossible to put down." -- School Library Journal

"A layered adventure-love story that's as much about the families we have and the families we make ourselves as it is about romance." -- Booklist




Simon & Schuster Books for Young Readers, 9781481478809, 432pp.
Publication Date: April 3, 2018
About the Author
Jenn Bennett is an award-winning author of young adult books, including Alex, Approximately; Starry Eyes; The Lady Rogue; and Always Jane, and the middle grade novel Grumbones. She also writes historical romance and fantasy for adults. Her books have earned multiple starred reviews, won the Romance Writers of America's RITA® Award, and been included on Publishers Weekly's Best Books annual list. She currently lives near Atlanta with one husband and two dogs.