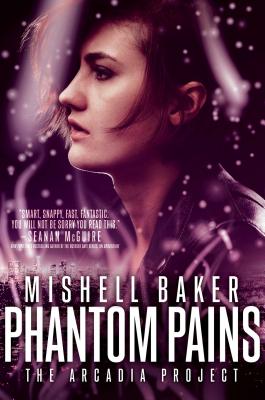 Phantom Pains (The Arcadia Project #2)
Hardcover

* Individual store prices may vary.
Other Editions of This Title:
Digital Audiobook (5/8/2017)
Paperback (3/21/2017)
Description
In this sequel to the Nebula Award–nominated and Tiptree Award Honor Book that New York Times bestselling author Seanan McGuire called "exciting, inventive, and brilliantly plotted," Millie unwillingly returns to the Arcadia Project when an impossible and deadly situation pulls her back in.

Four months ago, Millie left the Arcadia Project after losing her partner Teo to the lethal magic of an Unseelie fey countess. Now, in a final visit to the scene of the crime, Millie and her former boss Caryl encounter Teo's tormented ghost. But there's one problem: according to Caryl, ghosts don't exist.

Millie has a new life, a stressful job, and no time to get pulled back into the Project, but she agrees to tell her side of the ghost story to the agents from the Project's National Headquarters. During her visit though, tragedy strikes when one of the agents is gruesomely murdered in a way only Caryl could have achieved. Millie knows Caryl is innocent, but the only way to save her from the Project's severe, off-the-books justice is to find the mysterious culprits that can only be seen when they want to be seen. Millie must solve the mystery not only to save Caryl, but also to foil an insidious, arcane terrorist plot that would leave two worlds in ruins.
Praise For Phantom Pains (The Arcadia Project #2)…
* "Everything readers think they know about both worlds will be upended by this enthralling installment."
— Publishers Weekly, STARRED REVIEW

* "Everything readers think they know about both worlds will be upended by this enthralling installment."
— Library Journal, STARRED REVIEW

"In her second outing, Baker expands on the rich world she created and adds new dimension to Millie, who remains a thoroughly appealing and complex heroine."
— Booklist

"Smart, snappy, fast, fantastic. You will not be sorry you read this."
— Seanan McGuire, New York Times bestselling author of the October Daye series, on BORDERLINE

* "Fully articulated, flawed, and fascinating characters combine with masterly urban fantasy storytelling...[a] beautifully written story that is one part mystery, one part fantasy, and wholly engrossing."
— Publishers Weekly, STARRED REVIEW, on BORDERLINE

* "Takes gritty urban fantasy in a new direction with flawed characters, painful life lessons, and not a small amount of humor."
— Library Journal, STARRED REVIEW, on BORDERLINE

"An enjoyable fantasy mystery that tackles physical disability and mental illness without sacrificing diverting, fast-paced storytelling."
— Kirkus Reviews, on BORDERLINE

"Baker's consistent, caring integration of the realities of disability into the narrative, makes Borderline one of the most purely respectful portrayals of people with disabilities that I've ever had the pleasure of reading, and that in turn makes it an excellent launch to a very promising urban fantasy series."
— Publishers Weekly STAFF PICK, on BORDERLINE

"Baker has crafted a swift, delightful, and complex beginning to your next favorite urban fantasy series, very nearly redefining the genre along the way...an unabashed pleasure cruise, filled to the brim with snappy dialogue, smart character choices, behind-the-scenes Hollywood shenanigans, and delightful fish-out-of-water moments."
— B&N Sci-Fi and Fantasy blog, on BORDERLINE

"A fast-paced story of high costs laced with humor that goes from light-hearted to scathing with the flip of a coin...navigates the borderlands of friendship and enmity, trust and betrayal, with shrewd and unrelenting grace."
— NPR, on BORDERLINE

"Urban fantasy series often live of die on the strength of their protagonist, and by that measure, Mishell Baker has written one of the greats...Baker spins a fast-moving fantasy yarn while crafting fully formed characters, showing great compassion in her depiction of mental illness and alienation."
— B&N Sci-Fi and Fantasy blog, Bookseller picks, on BORDERLINE

"Borderline [is] a strange, fast-paced, and surprisingly dark tale about magic, madness and mystique...Despite the engaging plot, Millie's character, and the complexities in the characters around her made the book a real page-turner for me...Immensely riveting, with unexpected influxes of depth."
— MuggleNet.com, on BORDERLINE

"Mishell Baker's new Arcadia Project series is off to a thrilling and glamorous start with Borderline...Baker has given her audience urban fantasy at its finest—visceral and real in its sense of space, and dancing on the uncanny edges of our vision...Borderline is dark and creeping and smart as a whip."
— Tor.com, on BORDERLINE

"Borderline is worldbuilding at its most original...I loved this book."
— Charlaine Harris, New York Times bestselling author of DEAD UNTIL DARK, on BORDERLINE

"Baker's prose is a liquid line with light in it, that you can't tell is gasoline until she touches it with a match…. Phantom Pains succeeds in being both seamlessly connected to Borderline and utterly its own ambitious project. I was constantly aware of being impressed with it while being absorbed by it – and I ended up loving it more than Borderline, which is saying something."
— Lightspeed Magazine
Gallery / Saga Press, 9781481480178, 416pp.
Publication Date: March 21, 2017
About the Author
Mishell Baker is the author of the Nebula and World Fantasy Award Finalist Borderline, which was also a Tiptree Honor book, as well as the second and third books in The Arcadia Project, Phantom Pains and Impostor Syndrome. She is a 2009 graduate of the Clarion Science Fiction and Fantasy Writers' Workshop, and her short stories have appeared in Daily Science Fiction, Beneath Ceaseless Skies, Redstone Science Fiction, and Electric Velocipede. She has a website at MishellBaker.com and frequently Tweets about writing, parenthood, mental health, and assorted geekery at @MishellBaker. When she's not attending conventions or going on wild research adventures, she lives in Los Angeles with her husband and children.
or
Not Currently Available for Direct Purchase