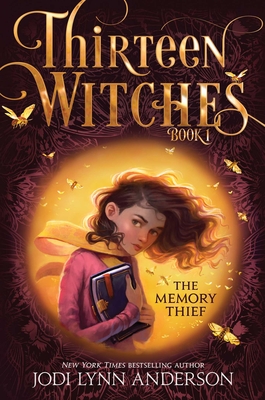 The Memory Thief (Thirteen Witches #1)
Hardcover

* Individual store prices may vary.
Other Editions of This Title:
Compact Disc (3/2/2021)
Description
"This expertly crafted story thrums with magic, love, and tense action." —Booklist (starred review)

Perfect for fans of The Girl Who Drank the Moon, this fantastical and heartfelt first book in a new trilogy from New York Times bestselling author Jodi Lynn Anderson follows a girl who must defeat thirteen evil witches.

Twelve-year-old Rosie Oaks's mom is missing whatever it is that makes mothers love their daughters. All her life, Rosie has known this...and turned to stories for comfort. Then, on the night Rosie decides to throw her stories away forever, an invisible ally helps her discover the Witch Hunter's Guide to the Universe, a book that claims that all of the evil in the world stems from thirteen witches who are unseen...but also unstoppable. One of these witches—the Memory Thief—holds an insidious power to steal our most precious treasures: our memories. And it is this witch who has cursed Rosie's mother.

In her quest to save her mom—and with her wild, loyal friend "Germ" by her side—Rosie will find the layers hidden under the reality she only thought she knew: where ghosts linger as shades of the past, where clouds witness the world, and a ladder dangles from the moon leading to something bigger and more. Here, words are weapons against the darkness, and witch hunters are those brave enough to wield their imaginations in the face of the unthinkable.

At the core of this stunning novel—the first of the Thirteen Witches trilogy from critically acclaimed author Jodi Lynn Anderson—is a passionate argument that stories have the power to create meaningful change...and a reason to hope even when the world feels crushing.
Praise For The Memory Thief (Thirteen Witches #1)…
Anderson, Jodi Lynn. The Memory Thief. 336p. (Thirteen Witches: Bk. 1). S. & S./Aladdin. Feb. 2021. Tr $17.99. ISBN 9781481480215.

Gr 4-8–Growing up with an indifferent mother, Rosie quickly learns to take care of herself and find the love she seeks in her own stories, which she shares with her best friend. When she decides that she is too old for storytelling, she unknowingly opens up her inherited power of "sight." Rosie comes from a long line of witch hunters who have the ability to see deeper into the world around them. She learns of witches, ghosts, a moon goddess, and how dangerous her life may become. Coming face-to-face with one of the 13 original witches, Rosie has to learn her place and powers in this new world. Anderson weaves a beautiful tale of beauty and darkness. This larger world is described eloquently in its magical details and terrifying dangers. Readers will come to understand the importance of love, friendship and imagination, while being warned against those who feed off of these good parts of the world. This first book in a new series ends on an intriguing note for future titles. VERDICT For fans of Cornelia Funke's "Inkheart" and Kelly Barnhill's The Girl Who Drank the Moon, fantasy fans will have much to enjoy with this one.–Julie Jesernik, Warrenville P.L., IL
— School Library Journal

It's always been up to Rosie to make sure things get done around the house, because her mom simply can't. Existing in fog of forgetfulness, her mother spends her days in the attic office doing data entry and staring out at the sea. Otherwise, the sixth grader is going through typical tween growing pains, chief among them the worry that her best friend, Germ, is outgrowing their friendship. This fear prompts Rosie to destroy her notebooks of "childish" stories, unintentionally activating an ability to see magic in the world around her. Ebb, a ghost who lives in her house, fills in many blanks for Rosie about her mother's past and her own destiny as a witch hunter. Rosie doesn't have much time to absorb this information before she has to confront the Memory Thief, the witch who stole her mother's memory on the night of Rosie's birth. Anderson skillfully applies this layer of magic to a relatable story of growing up and coming into one's own. The dynamic between Rosie and Germ rings true in both its reliability and its newly felt strain, and Anderson's malevolent witches are truly unsettling. First in the Thirteen Witches series, this expertly crafted story thrums with magic, love, and tense action, and it's a sure bet for Joseph Delaney or Kelly Barnhill fans.
— Booklist STARRED Review

A girl uncovers family secrets and faces off against a witch called the Memory Thief.

Sixth grader Rosie wishes her cold, neglectful mother loved her—readers know from the prologue that her mother's under the Memory Thief's powerful curse—and copes by writing fairy-tale–esque stories. But when Rosie's bold best friend, Germ, starts growing up faster than Rosie, she worries she'll be left behind. Deciding to set aside her childish things, she burns her stories; in doing so, she awakens her sight, which allows her to see all the ghosts in her house. Friendlier ghosts lead her to her mother's hidden witch hunter's manual and educate her on her family's long, tragic quest against the 13 evil witches who counter the good Moon Goddess. But the sight also draws the attention of the Memory Thief's servants, bringing the witch directly up against Rosie. With help from Germ and a ghost friend, Rosie must learn how her mother protected her as a baby and obtain a weapon to use against the witch. The will-they-grow-apart friendship storyline is handled with love and nuance. The magical plot requires lots of exposition but reads quickly. At times, development of the themes—for example, the magic and power of stories—can be a little heavy-handed, but readers who connect with Rosie likely will benefit from such reassurances. After the resolution, the stakes are ramped up to tease sequels. Whiteness is situated as the default.

A bighearted adventure.
— Kirkus Reviews

On the night Rosie Oaks was born, her witch hunter mother managed to hide her from the Memory Thief and the Time Witch, two of thirteen embodied cosmic forces of darkness and human suffering. They took Rosie's twin brother, though, and left her mother without memories. When aspiring storyteller Rosie exhibits the ability to see the magical and spiritual layers of the everyday world, it's up to her to defeat the Memory Thief to protect herself and try to cure her mother's amnesia. Readers will feel their heartstrings tugging as Rosie makes the best of having to be the present, responsible one in their family of two. Her fear of losing best friend Germ to popularity and her awkwardness around Ebb, a helpful boy (even if he is a ghost), speak to solidly middle-grade social dynamics. The witches are too vaguely defined to be really effective villains or metaphors for worldly ill, but they may be developed in subsequent volumes of the series. Ultimately, the forces of evil (and teenagerhood) prove no match for faithful friendship and inner strength, and Rosie procures both a happy ending and the beginning of a new adventure to be continued. The emphasis on stories as vehicles for hope and empowerment will speak to anyone who's ever found comfort in a book. FHK
— BCCB

In this heavily allusive fantasy set in coastal Maine, narrator Rosie, an avid fantasy writer, lives alone with her neglectful mother, leaving herself parental notes ("You look taller today, sweetie"). When her best friend, assertive and athletic Germ, suggests that the new sixth graders abandon childish things, Rosie burns her stories, inadvertently unlocking a special sight that reveals the ghosts—some friendly, some menacing—coexisting in her home. Helping to locate an old volume, The Witch Hunter's Guide to the Universe, the ghosts disclose the existence of 13 witches who conjure the world's evil, Rosie's mother's past as the last known witch hunter, and the root of Rosie's mother's neglect in the covetous Memory Thief's curse. But the sight also places Rosie, and others, in danger of that witch and her emissaries. In this novel of ghosts, memory, and story, Anderson (Midnight at the Electric) weaves components of children's literature mainstays into a dreamlike first-person narrative. Though reveals are clearly telegraphed, an atmospherically rendered villain and a layered portrait of two friends intent on rescuing each other elevate this trilogy opener. Ages 9–13. Agent: Rosemary Stimola, Stimola Literary Studio. (Mar.)
— Publishers Weekly
Aladdin, 9781481480215, 336pp.
Publication Date: March 2, 2021
About the Author
Jodi Lynn Anderson is the bestselling author of several critically acclaimed books for young people, including the May Bird trilogy and My Diary from the Edge of the World. She lives with her husband, son, and daughter in Asheville, North Carolina, and holds an MFA in writing and literature from Bennington College.