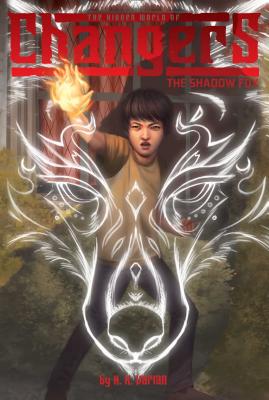 The Shadow Fox (The Hidden World of Changers #5) (Paperback)
Simon Spotlight, 9781481480819, 176pp.
Publication Date: January 31, 2017
* Individual store prices may vary.
Description
A new threat is lurking in the shadows in the electrifying fifth novel of The Hidden World of Changers series!

Fiona, Mack, Gabriella, and Darren are Changers, a magical line of shapeshifters that can transform into mythological creatures, from werewolves and selkies to lightning birds and spirit foxes.

It's spring break in Willow Cove, and Mack, Gabriella, Darren, and Fiona are going on a class trip to Wyndemere Academy, a boarding school just for Changers! The kids are excited to learn more about the Changer world and to compete in the Youngling Games, a sporting event held each spring.

But while Gabriella trains for the Games, Fiona camps out in the library, and Darren learns more about his powers, something is following Mack. He keeps catching a glimpse of a fox—a kitsune like him—with gleaming golden fur. Little does Mack know that the kitsune has a message for him, and nothing will stop her from delivering it.
About the Author
H.K. Varian has always loved reading about ancient mythology, ruins, and magic. Though H.K. once dreamed of having awesome powers like in Changers, writing became kind of like magic in and of itself. Today H.K. lives, writes, and has adventures in Pittsburgh, though most of them don't involve battling warlocks, storming castles, or retrieving enchanted objects.