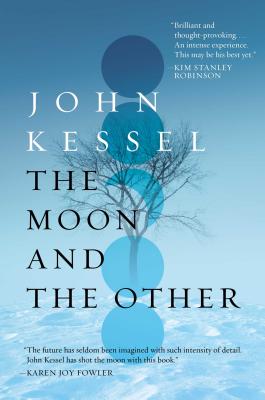 The Moon and the Other
Hardcover

* Individual store prices may vary.
Other Editions of This Title:
Paperback (12/5/2017)
Description
A Washington Post Best Science Fiction and Fantasy Selection of 2017

"Charming, sexy." —The Washington Post

John Kessel, one of the most visionary writers in the field, has created a rich matriarchal utopia, set in the near future on the moon, a society that is flawed by love and sex, and on the brink of a destructive civil war.

In the middle of the twenty-second century, over three million people live in underground cities below the moon's surface. One city-state, the Society of Cousins, is a matriarchy, where men are supported in any career choice, but no right to vote—and tensions are beginning to flare as outside political intrigues increase.

After participating in a rebellion that caused his mother's death, Erno has been exiled from the Society of Cousins. Now, he is living in the Society's rival colony, Persepolis, when he meets Amestris, the defiant daughter of the richest man on the moon.

Mira, a rebellious loner in the Society, creates graffiti videos that challenge the Society's political domination. She is hopelessly in love with Carey, the exemplar of male privilege. An Olympic champion in low-gravity martial arts and known as the most popular bedmate in the Society, Carey's more suited to being a boyfriend than a parent, even as he tries to gain custody of his teenage son.

When the Organization of Lunar States sends a team to investigate the condition of men in the Society, Erno sees an opportunity to get rich, Amestris senses an opportunity to escape from her family, Mira has a chance for social change, and Carey can finally become independent of the matriarchy that considers him a perpetual adolescent. But when Society secrets are revealed, the first moon war erupts, and everyone must decide what is truly worth fighting for.
Praise For The Moon and the Other…
The Washington Post: 5 Best Science Fiction and Fantasy Novels of 2017 Selection

"The Moon and the Other is funny, sexy and charming."
— -- The Washington Post

"Kessel's wonderfully weighty novel is speculative fiction at its finest. This is impossible to put down."
— -- Library Journal *STARRED REVIEW*

"Kessel's complex ideas and worldbuilding will appeal to any fan of character- and culture-driven speculative fiction."
— -- Publishers Weekly

"Science fiction is a genre that's uniquely suited for making the internal into the external. Authors can take an intangible issue, whether it's a relationship problem, a philosophical belief, or a scientific quandary, and make it material. John Kessel's new novel The Moon and the Other does just that, playing out a complex, but relevant story about politics, gender identity, and social conflict through a series of characters living on Earth's inhabited Moon. A wonderful, complicated, and beautiful novel, it asks what responsibilities people have to the societies they inhabit."
— Andrew Liptak,

"A serious book about gender politics of the future, yet it's accessible and light-hearted for the subjects it focuses on.

At around 600 pages, The Moon and the Other is one of the longer books on this list, but the rich characters and intricate lunar societies make it feel much shorter."
— The Best Science Fiction Books of 2017 (So Far)

"Science fiction often shows us ways society could be different in the future. One recent example is The Moon and the Other, which presents a fresh take on the idea of a matriarchal society."
— -- David Barr Kirtley,

"This fun, smart science fiction novel contends with gender and matters of the heart, with a message of clear-eyed hope."
— -- Shelf Awareness

"Kessel has imagined a richly detailed future world, and a strong plot full of intrigue keeps this story moving along. This is a fun diversion for sci-fi fans"
— -- Kirkus Reviews

"Kessel has crafted a compelling and complex tale, full of social commentary and thought-provoking dire warnings of a perilous future."
— -- Booklist
Gallery / Saga Press, 9781481481441, 608pp.
Publication Date: April 4, 2017
About the Author
John Kessel lives in Raleigh, North Carolina with his wife, novelist Therese Anne Fowler. He is a professor and the director of creative writing at North Carolina State University. He is the author of The Baum Plan for Financial Independence and Other Stories, Corrupting Dr. Nice, The Moon and the Other, and Pride and Prometheus.
or
Not Currently Available for Direct Purchase