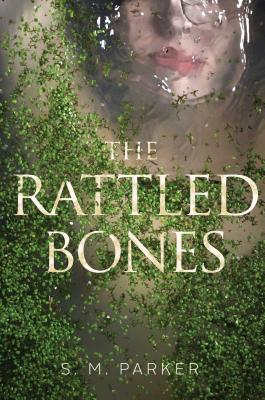 The Rattled Bones
Hardcover

* Individual store prices may vary.
Other Editions of This Title:
MP3 CD (8/22/2017)
Compact Disc (8/22/2017)
Paperback (8/21/2018)
MP3 CD (8/22/2017)
Compact Disc (8/22/2017)
Description
"The feminist ghost story you've been waiting for." —Bustle

Unearthing years of buried secrets, Rilla Brae is haunted by ghostly visions tied to the tainted history of a mysterious island in this "electrifying, taut tale of the sea, grief, and memory" (Kathleen Glasgow) from the author of The Girl Who Fell.

Maine-bred, independent Rilla Brae is no stranger to the deep. She knows the rhythms of hard work and harder seas. But when she experiences the sudden death of her father, the veil between the living and the dead blurs and she begins to be haunted by a girl on a nearby, uninhabited island. The girl floats a song over the waves, and it is as beautiful as it is terrifying. Familiar and distant.

Then Rilla meets Sam, a University of Southern Maine archeology student tasked with excavating the very island where the ghostly girl has appeared. Sam sifts the earth looking for the cultural remains of an island people who were forcibly evicted by the state nearly a hundred years ago. Sam tells Rilla the island has a history no locals talk about—if they know about it at all—due to the shame the events brought to the working waterfront community. All Rilla knows for sure is that the island has always been there—an eerie presence anchored in the stormy sea. Now Sam's work and the ghostly girl's song lure Rilla to the island's shores.

As Rilla helps Sam to unearth the island's many secrets, Rilla's visions grow—until the two discover a tragedy kept silent for years. And it's a tragedy that has everything to do with Rilla's past.
Praise For The Rattled Bones…
"An electrifying, taut tale of the sea, grief, and memory that will take your breath away. You will not soon forget Rilla Brae, Malaga Island, or S.M. Parker's gorgeous, scary story. Keep the lights on."
— Kathleen Glasgow, New York Times bestselling author, Girl in Pieces

"Gorgeous and lyrical, Parker's mesmerizing story is a siren's song that lures you into a beautiful fog of secrets and mystery."
— Adriana Mather, New York Times bestselling author of How to Hang a Witch

"In this chilling story of grief, ghosts, and secrets, Parker leads you on a journey that reveals a deep and unexpected connection between the past and the present. Full of twists and turns, darkness and light, THE RATTLED BONES will stay with you long after you've turned the last page."
— Amber Smith, New York Times bestselling author of The Way I Used to Be

"Equal parts beautiful and chilling, Shannon M. Parker's sophomore novel will sweep you away to the icy waters and small coastal towns of Maine, where the past refuses to be ignored and family secrets are dredged to the surface with the day's catch. Unputdownable, and like the roar of the sea once you've heard it, unforgettable."
— Sarah Glenn Marsh, author of Fear the Drowning Deep

"THE RATTLED BONES is like a ghost story told around a bonfire on a cold northern beach. This exquisite, stormy mystery and its seafaring heroine will keep you reading long into the night."
— Rebecca Podos, author of The Mystery of Hollow Places

"In The Girl Who Fell, Shannon Parker established herself as a master at weaving a compelling story in a high stakes, thrilling ride of a read. She does it again, superbly, in THE RATTLED BONES, where a haunting on the Maine coastline blurs the line between sanity and madness."
— Karen Fortunati, author of The Weight of Zero

"I am in love with this book. THE RATTLED BONES is cinematic and atmospheric and made me feel the grief and the grit and the salt air in my chest. The writing is gorgeous yet ghostly. And brave Rilla Brae is the ultimate heroine I wish I had the guts to be."
— Marisa Reichardt, author of Underwater

"The feminist ghost story you've been waiting for."
— Bustle

"Shannon M. Parker has (once again) created a masterpiece. THE RATTLED BONES flawlessly captures the eerie beauty of Maine and pulls back the curtain on a piece of history that has stayed hidden for too long. Not only is this book goose bump-inducing, it is beautifully written and completely engrossing. I couldn't put it down. I practically disappeared into it."
— Lilly,R. 18-year-old reader

"This book is amazing!"
— Taylor W., 15-year-old reader

"An evocative backdrop of life as a lobsterman grounds the supernatural elements, and Rilla's steeliness shines—she's the kind of captain readers will eagerly follow. History and mystery meld beautifully in this ghost story with depth."
— Kirkus

"Parker's vivid descriptions of life on Maine's coast and the lobstering business ground a haunting and atmospheric tale about the sea and reckoning with a community's past."
— Publishers Weekly

"With a strong main character, a well-developed supporting cast, and illustrative story-telling, the author has succeeded in meshing multiple genres into one extraordinary YA novel."
— School Library Connection
Simon & Schuster Books for Young Readers, 9781481482042, 384pp.
Publication Date: August 22, 2017
About the Author
S.M. Parker lives on the coast of Maine with her husband and sons. She works as a literacy advocate and holds degrees from three New England universities. She can usually be found rescuing dogs, chickens, old houses, and wooden boats. She has a weakness for chocolate chip cookies and ridiculous laughter—ideally at the same time. The Girl Who Fell was her first novel. Find her at ShannonMParker.com.