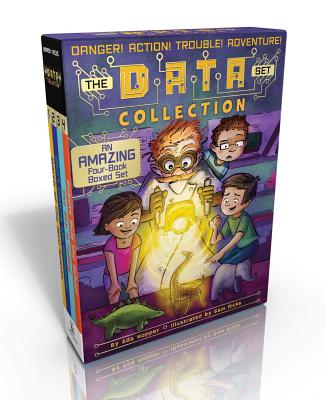 The DATA Set Collection
March of the Mini Beasts; Don't Disturb the Dinosaurs; The Sky Is Falling; Robots Rule the School
Paperback

* Individual store prices may vary.
Description
Join the DATA Set on their outrageous adventures with this action-packed four-book collection!

DANGER! ACTION! TROUBLE! ADVENTURE!
Meet Newtonburg Elementary's whiz kids: Gabe, Laura, Cesar and Olive…a.k.a. the DATA Set!

Join the gang as they deal with crazy mishaps after they come face-to-face with their reclusive, mysterious next door neighbor. Dr. Bunsen always has the best intensions. Really he does. But unfortunately for him, nothing ever goes quite right. Thanks to him, the kids learn to think fast in even the most outrageous situations. Join the DATA Set's adventures where plastic toys come to life, dinosaurs try to eat the team, aliens visit Earth, and an army of robots tries to take over the DATA Set's school!

With easy-to-read language and illustrations on almost every page, The DATA Set chapter books are perfect for emerging readers.

This action-packed four-book collection includes:
March of the Mini Beasts
Don't Disturb the Dinosaurs
The Sky Is Falling
Robots Rule the School
Little Simon, 9781481482141, 512pp.
Publication Date: October 4, 2016
About the Author
Ada Hopper has been extremely inventive ever since she was little. There was nothing that a rubber band and some tweezers couldn't fix, no question that couldn't be answered by scouring the library, and no way she wasn't escaping over that back yard fence! Ada loves reading and writing because of all the fantastical worlds a good book can bring you to. When not working, Ada enjoys karaoke, spending time with her family, and going on the occasional adventure or two.

Sam Ricks grew up creating stories about toxic fruitcakes and peanut butter-snatching aliens. He is the illustrator of several books for young readers, including The Data Set series. Sam earned his BA from Brigham Young University and his MA from the University of Baltimore. He is a founding member of Cotopaxi: Gear For Good. He, his wife, and their five children live in Salt Lake City, Utah. Visit Sam at SamRicks.com.