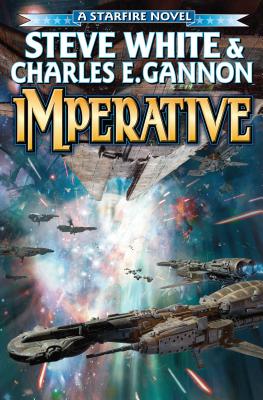 Imperative (Starfire #7) (Mass Market)
Baen, 9781481482431, 608pp.
Publication Date: April 25, 2017
Other Editions of This Title:
Paperback (3/1/2016)
* Individual store prices may vary.
Description
New York Times Best-Selling Author Steve White, teams up with Compton Crook Award Winner Charles Gannon to carve another notch in the Starfire adventure saga.

WHAT HAPPENS WHEN ASSIMILATION FAILS?

The war with the Arduans—profoundly alien invaders who originally arrived in STL ships—is over. Most of those attackers are now probationary (and very productive) citizens of the Rim Federation.

However, many among the Arduans' warrior caste have accepted neither defeat nor the personhood of any of the other intelligence races. Their leader, the ruthless admiral of the second Arduan exodus— Amunsit—is in firm control of the Zarzuela system. Along with a fifth column among the peaceable Arduans, she hopes to find allies in subsequent refugee fleets that abandoned their race's now-dead home system long ago.

But as the victors' diplomats attempt to soothe tensions with these warlike neighbors, two heroes of the last war—veteran Admiral Ian Trevayne and young trouble-shooter Ossian Wethermere--suspect they have stumbled upon a deeper Arduan plot: one which could shatter the Pan-Sentient Union, and perhaps interstellar civilization itself.

About Extremis:
"Vivid. . .Battle sequences mingle with thought-provoking exegesis . . ."–Publishers Weekly

About Steve White and David Weber's The Shiva Option:
"[Leaves] the reader both exhilarated and enriched." –Publishers Weekly

About Steve White:
"White offers fast action and historically informed world-building."–Publishers Weekly

About Steve White's Forge of the Titans:
". . . recalls the best of the John Campbell era of SF. White's core audience of hard SF fans will be pleased . . ."–Publishers Weekly
About the Author
Vietnam veteran Steve White is the author of numerous science fiction and fantasy novels including Wolf Among the Stars, St. Anthony's Fire, and Blood of Heroes and the coauthor of Exodus, the immediate prequel to Extremis. With David Weber, White collaborated on Starfire series novels Insurrection, Crusade, In Death Ground, and New York Times bestseller The Shiva Option.

Charles E. Gannon is the author of Compton Crook Award winning, Nebula nominated Fire with Fire, Trial by Fire, and Raising Caine, in the Caine Riordan series. He is the coauthor with Eric Flint of 1636: The Papal Stakes and 1636: Commander Cantrell in the West Indiesin Eric Flint's best-selling Ring of Fire series. With best-selling Steve White, Gannon is the coauthor of Starfire series entries Extremis,and Imperative. Gannon is also the author of multiple short stories. He is a member of SIGMA, the "SF think-tank" which has advised various intelligence and defense agencies since the start of the millennium. Chuck lives near Annapolis, Maryland with his wife and children.
or
Not Currently Available for Direct Purchase