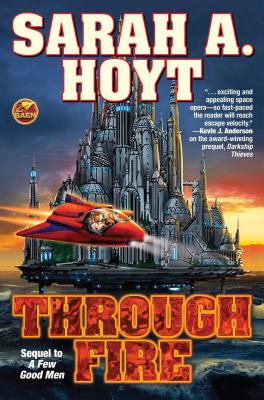 Through Fire (Darkship #4)
Paperback

* Individual store prices may vary.
Other Editions of This Title:
MP3 CD (10/18/2016)
Description
ORIGINAL TRADE PAPERBACK. Sequel to Darkship Renegades, Darkship Thieves and A Few Good Men.

Against all odds, spaceship mechanic Zen Sienna finds herself in a fairytale palace, being courted by the ruler of vast lands. But when revolution erupts and heads start to roll, Zen finds that the life of a storybook princess is not be all fancy balls and happy endings. Swept up in a whirlwind of fire and blood, Zen must earn her citizenship on Earth and find her place in a world on the brink of revolution.

About the Darkship series:
"Hoyt creates a fast-paced and entertaining tale about a revolution and its reluctant leader."—Galveston County Daily News

"First-rate space opera with a moral lesson. You won't be disappointed."—Glenn Reynolds, Instapundit.com

"[A] tour de force: logical, built from assumptions with no contradictions . . . gripping."–Jerry Pournelle

"[Three Musketeers creator] Alexander Dumas would give [Sarah A. Hoyt] a thumbs up."–Steve Forbes

"[F]anciful and charming." –Library Journal

"Exceptional, wonderful and enormously entertaining." –Booklist
Baen, 9781481482455, 336pp.
Publication Date: August 2, 2016
About the Author
Sarah A. Hoyt, under various names, is the author of over 30 books—she gets tangled up when she tries to count them and always misses a couple—in science fiction, fantasy, mystery, romance, and historical fiction. Her first published novel, Ill Met by Moonlight, was a finalist for the Mythopoeic Award. Darkship Thieves, the first novel of her popular Darkship Thieves series is a Prometheus Award Winner. She's published over 100 short stories in magazines such as Analog, Asimov's, and Weird Tales (and others, some no longer in existence), as well as an array of science fiction, fantasy, and mystery anthologies. Sarah was born and raised in Portugal and now lives in Colorado, near her two grown sons, with her husband and a varying clowder of cats. English is her third language, but she can swear fluently in seven. When not laying down words on the latest manuscript, she can be found refinishing furniture, walking, or studying history.