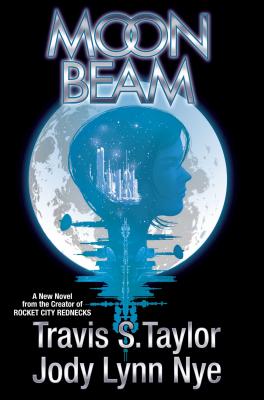 Moon Beam
Hardcover

* Individual store prices may vary.
Description
MIDDLE GRADE, 10 YEARS AND UP.

FROM BEST-SELLING AUTHORS TRAVIS S. TAYLOR AND JODY LYNN NYE

STAY ALIVE ON THE FAR SIDE OF THE MOON

What happens when you get the one thing you wanted most in life? Lonely 16-year-old farm girl Barbara Winton has been following one reality show for years. Then in an instant she goes from fangirl to participant when the call comes from Dr. Keegan Bright: She's been selected out of a horde of applicants to join him on the Moon.

She'll be one of his Bright Sparks, six students with expertise in STEM and plenty of their own ingenuity chosen to work with Dr. Bright and given big responsibilities to undertake new projects important to the growth of the colony. Her first task? Build a radar telescope using an entire crater on the far side of the Moon.

But Barbara soon learns that life on a burgeoning frontier outpost like the Moon is a far cry from safe, civilized Earth. The loner from farm country must find a way to weld a functional team out of fiercely independent thinkers. Not only are they a bit trickier to work with than farm robots, not only is the working environment incredibly dangerous—she also has to perform this miracle in front of millions of fans….

Praise for Moon Beam:

"Taylor and Nye offer up a tense escapade with engaging characters and a fast-paced plot, but their true focus is on scientific detail, plausibility, and ingenuity . . . it's an entertaining and even educational offering, perfect for those who demand science in their science fiction."—Publishers Weekly

Praise for the work of Jody Lynn Nye:

"Infused with humor to keep you entertained and action to make you turn the pages."—Kirkus on Jody Lynn Nye's Rhythm of the Imperium

"I thoroughly enjoyed it, the plot, the settlement, the whole nine yards, and especially the twitch of humor at odd moments...a book I can thoroughly recommend." —Anne McCaffrey

"An unusual story well-told, with characters it's a real pleasure to spend time with." —David Drake

"[An] innovative take on the well-loved theme of fairies and dangerous wishes." —Publishers Weekly on Wishing on a Star by Jody Lynn Nye and Angelina Adams

About Travis S. Taylor:
"[E]xplodes with inventive action.—Publishers Weekly on Travis S. Taylor's The Quantum Connection.

"[Warp Speed] reads like Doc Smith writing Robert Ludlum. . .You won't want to put it down"—John Ringo
Baen, 9781481482523, 320pp.
Publication Date: July 4, 2017
About the Author
Dr. Travis S. Taylor heads up the cast of The Secret of Skinwalker Ranch and can be seen on The Machines that Built America on the History Channel. He has worked on various programs for the Department of Defense and NASA for the past twenty years. His expertise includes advanced propulsion concepts, very large space telescopes, space-based beamed-energy systems, future combat technologies, and next-generation space launch concepts. Taylor is also the author of pulse-pounding, cutting-edge science fiction novels, including the highly popular One Day on Mars, Tau Ceti Agenda, and the groundbreaking Warp Speed series. He is a regular on the History Channel's Life After People and The Universe series.