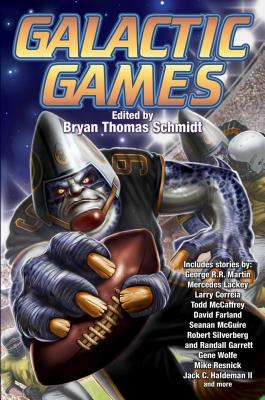 Galactic Games (Mass Market)
Baen, 9781481482639, 448pp.
Publication Date: June 27, 2017
Other Editions of This Title:
Paperback (6/7/2016)
* Individual store prices may vary.
Description
TOP AUTHORS, including 8 New York Times best-selling authors, imagine sports in intergalactic, Olympic-like competitions of the future. George R.R. Martin, Larry Correia, Mercedes Lackey, Gene Wolfe, Robert Silverberg, Mike Resnick, Seanan McGuire, David Farland and many more. Eighteen stories, eighteen different sports, many never written about in science fiction before.

FUTURE SPORTS!

The Olympic Games—pushing skills, minds, brains and bodies to their limits in the ultimate competition on Earth. But once mankind has reached the stars, playing sports will travel with us. Yet galactic sports come with new challenges and possibilities. And new dangers.

From downhill figure skating to horse racing with alien life forms; from baseball played with speedboats to basketball on Mars and golf on the Moon; from alien opponents to literally death defying stakes, Galactic Games takes the competition to a whole new level. Includes stories by top selling authors George R.R. Martin, Mercedes Lackey, Larry Correia, Todd McCaffrey, David Farland, and Seanan McGuire as well as legends Robert Silverberg, Randall Garrett, Gene Wolfe, Mike Resnick, Jack C. Haldeman, and more.

About Mission: Tomorrow, edited by Bryan Thomas Schmidt:

"This themed anthology . . . will appeal to a wide range of readers, who will appreciate the diversity of stories . . . a solid introduction to a classic genre."—Kirkus

"Editor Schmidt adds grandmasters to a mix of newer established names and balances the tragic with the humorous."—Publishers Weekly

About Shattered Shields, edited by Jennifer Brozek and Bryan Thomas Schmidt:
"In this well-built anthology, seventeen original stories cut to the heart of military fantasy, diving directly into the most exciting moments of dramatic bravery, grand battles, and life-changing heroism. . . . Readers who prefer to cut straight to the action, but want more depth than pure hack-and-slash, will find these offerings appealing."—Publishers Weekly

"An inventive and thought-provoking set of tales that capture the bravery and terrors of battle. Carries the banner of military fantasy proudly."—John Marco, author of The Bronze Knight Series

About The Raygun Chronicles, edited by Bryan Thomas Schmidt:
"Fans of sf should enjoy this stylistically varied homage to a genre as old as the fiction . . . "—Library Journal

About Beyond the Sun, edited by Bryan Thomas Schmidt:
"Beyond the Sun mixes courage, redemption, and stark terror in tales of distant worlds. Buckle in."—Jack McDevitt, author of Firebird
About the Author
Bryan Thomas Schmidt is an author and a Hugo-nominated editor of adult and children's speculative fiction. His debut science fiction novel was The Worker Prince, which received Honorable Mention on Barnes & Noble's Year's Best SF of 2011, and was followed followed by sequels The Returning and The Exodus. His children's books include 102 More Hilarious Dinosaur Jokes For Kids and Abraham Lincoln: Dinosaur Hunter—Land Of Legends. Schmidt has edited edited anthologies Space Battles: Full Throttle Space Tales #6, Beyond The Sun, Raygun Chronicles: Space Opera For a New Age and, with Jennifer Brozek, coedited military high fantasy original anthology,Shattered Shields. Schmidt hosts #sffwrtcht (Science Fiction & Fantasy Writer's Chat) Wednesdays at nine p.m. ET on Twitter.
or
Not Currently Available for Direct Purchase