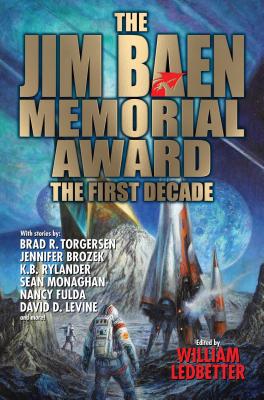 The Jim Baen Memorial Award: The First Decade (Paperback)
The First Decade
Baen, 9781481482813, 320pp.
Publication Date: November 7, 2017
Description
CELEBRATING TEN YEARS OF THE JIM BAEN MEMORIAL SHORT STORY AWARD A DECADE OF SCIENCE FICTION EXCELLENCE Since 2007, Baen Books and The National Space Society have sponsored The Jim Baen Memorial Short Story Award, to honor the legacy of Jim Baen and to promote the ideals of forward-thinking, positive science fiction. Here gathered together for the first time are the best of the best of the first decade of the Jim Baen Memorial Award. Winners and runners-up whose stories dared imagine a bright future in which humankind has shaken off the shackles of gravity and moved into that limitless realm known as "outer space." Each tale is set in a plausible, near-future setting, and yet the variations are as limitless as the imaginations of the array of authors represented. Stories that ask, "What if?" Stories that dare to say, "Why not?" Stories that continue the grand science fiction tradition, looking to the future with a positive outlook on humanity's place in the universe.
About the Author
William Ledbetter is a Nebula Award winning writer with more than fifty speculative fiction stories and non-fiction articles published in markets such as Fantasy & Science Fiction, Jim Baen's Universe, Writers of the Future, Escape Pod, Daily SF, the SFWA blog, and Ad Astra. He's been a space and technology geek since childhood and spent most of his non-writing career in the aerospace and defense industry. He administers the Jim Baen Memorial Short Story Award contest for Baen Books and the National Space Society, is a member of SFWA, the National Space Society of North Texas, a Launch Pad Astronomy workshop graduate, is the Science Track coordinator for the Fencon convention and is a consulting editor at Heroic Fantasy Quarterly. He lives near Dallas with his wife and three spoiled cats.
Advertisement