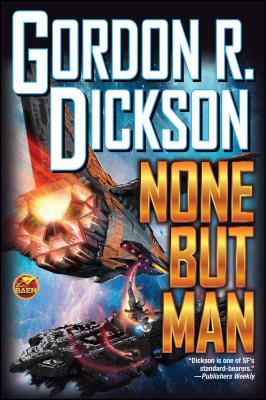 None But Man (Paperback)
Baen, 9781481482851, 288pp.
Publication Date: November 7, 2017
* Individual store prices may vary.
Description
A classic of science fiction from SF legend Gordon R. Dickson, winner of three Hugo awards, a Nebula award, and an inductee into the Science Fiction Hall of Fame. The long period of civil unrest known as the Frontier Rebellion has come to an end. The Old Worlders of Earth and the colonists of the Pleiades Planets at the edge of known space have at last formed an uneasy peace. But for former Rebel highjacker Culihan O'Rourke, peace will not last long. The aliens known as the Moldaugs have returned from their long absence, and they are demanding the Old Worlders turn over the Pleiades Planets to them. If the Old Worlders fail to do so, the Moldaugs will annihilate the human race. With Old Earth aligned with the aliens against them, the colonists don't stand a chance. But Cully O'Rourke has faced down long odds before--and he's not one to give up his home without a fight. About Gordon R. Dickson:
"Dickson is one of SF's standard-bearers."--Publishers Weekly "Dickson has a true mastery of pacing and fine understanding of human beings."--Seattle Post Intelligencer "A masterful science fiction writer."--Milwaukee Journal "The grandest saga in the history of science fiction."--Ben Bova on Dickson's Dorsai stories "Dickson is among the best storytellers we have ever had...one of the finest makers that our field has ever known."--Poul Anderson.
About the Author
Gordon R. Dickson (1923-2001) was one of the most prolific and popular science fiction writers of the 20th Century, frequently nominated for the Hugo and Nebula Awards and winning three Hugos and one Nebula. He also received the Jupiter, August Derleth, and Skylark Awards, and was inducted into the Science Fiction Hall of Fame. He published nearly fifty solo novels, as well as several collaborations with such SF masters as Poul Anderson, Ben Bova, Keith Laumer, and Harry Harrison, and over one hundred and fifty short stories, novelettes, and novellas. His most popular works were the novels and shorter pieces in the Childe cycle (which included the Dorsai stories). Also very popular was his Dragon series of fantasy novels, which began with the award-winning The Dragon and the George, and continued for a total of nine novels, and the humorous Hoka stories, co-authored with Poul Anderson.
or
Not Currently Available for Direct Purchase