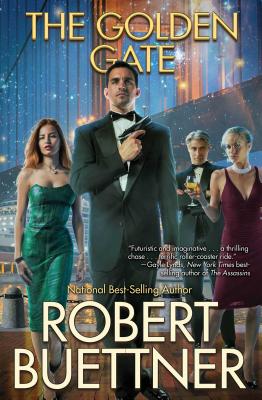 The Golden Gate
Mass Market

* Individual store prices may vary.
Other Editions of This Title:
MP3 CD (3/28/2017)
Hardcover (1/3/2017)
Description
An exciting future thriller from nationally best-selling author of the Orphan's Legacy science fiction saga. A face-off with killers in order to guard a secret that could change humanity forever.

LIVE FOREVER—OR DIE TRYING

When the world's richest man is the victim of a car bomb and literally blown off the Golden Gate Bridge the attack is attributed to terrorists and the world moves on. But some still wonder. Was Manuel Colibri targeted because, as Silicon Valley rumor has it, he was about to make the dream that people alive today can live to be one thousand come true?

Two people are pursuing the truth. Tech journalist Kate Boyle and recovering Iraq war veteran Ben Shepard race through the Bay Area chasing the only clues the reclusive Colibri left behind. They discover not only each other but a cosmic secret that can change human history—and may cost them their lives.

Praise for The Golden Gate:

"Futuristic and imaginative, The Golden Gate by Robert Buettner sweeps across continents and centuries in a thrilling chase for the truth about longevity. The science is fascinating, and the suspense never lets up. Readers will revel in this terrific roller-coaster ride."—Gayle Lynds, New York Times bestselling author of The Assassins

". . . reverberates with echoes of current concerns over biomedical ethics, religion, and political machinations . . . interesting ideas about life extension and the implications of technological advances . . . and . . . the underlying mystery and unpredictability keep the pages turning."—Publishers Weekly

About Robert Buettner's Balance Point:
"Buettner . . . conducts his thriller action with suspense and plausibility. All the separate threads balance neatly, as if in homage to the book's themes of balance between antagonistic polities . . . and [Balance Point] carries forward nobly the kind of core SF tale pioneered by writers such as Anderson, Gordon Dickson, Christopher Anvil, James Schmitz, and C. J. Cherryh, offering entertainment aplenty with thoughtful meditations on how humanity can get along with itself or not!"—Locus

About Robert Buettner and the Orphan's Legacy Series:
"Buettner goes well beyond . . . military science fiction . . . he understands . . . living as a soldier—the boredom punctuated by terror, the constant anxiety and self-doubt, the random chaos that battle always is, and the emotional glue that holds together people who may have nothing in common except absolute responsibility for one another's lives." —Joe Haldeman, Hugo and Nebula Award-winning author

"[O]nce in a while . . . a contemporary author penetrates to the heart of Heinlein's vision . . . to replicate the master's effects. . . . [O]ne such book [is] Robert Buettner's Orphanage." —The Washington Post

"Entertaining. Buettner shows the Heinlein touch." —Denver Post
Baen, 9781481482943, 480pp.
Publication Date: October 31, 2017
About the Author
Robert Buettner has been general counsel of a unit of one of the United States' largest private multinational companies, served as a US Army intelligence officer, prospected for minerals in Alaska and the Sonoran desert, and was a National Science Foundation Fellow in paleontology. A Quill Award nominee for Best New Writer of 2005, his best-selling debut novel, Orphanage, was a Quill nominee for Best SF/Fantasy/Horror novel of 2004 and has been called a classic of modern military science fiction. The Golden Gate is his ninth novel, and his first set in the near-present. He lives in Georgia with his family and more bicycles than a grownup needs.