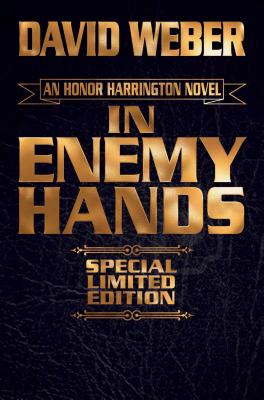 In Enemy Hands Limited Leatherbound Edition (Honor Harrington #7)
Leather

* Individual store prices may vary.
Description
LIMITED LEATHERBOUND EDITION. Special signed leatherbound collector's edition of the seventh book in the classic Honor Harrington series. Honor Harrington's career has its ups and its downs. She's survived ship-to-ship battles, assassins, political vendettas, and duels. She's been shot at, shot down, and just plain shot, had starships blown out from under her, and made personal enemies who will stop at nothing to ruin her, and somehow she's survived it all. But this time she's really in trouble. The People's Republic of Haven has finally found an admiral who can win battles, and Honor's orders take her straight into an ambush. Outnumbered, outgunned, and unable to run, she has just two options: see the people under her command die in a hopeless, futile battle... or surrender them-and herself-to the Peeps. There can be only one choice, and at least the People's Navy promises to treat their prisoners honorably. But the Navy is overruled by the political authorities, and Honor finds herself bound for a prison planet aptly named "Hell." . . and her scheduled execution. Put into solitary confinement, separated from her officers and her treecat Nimitz, and subjected to systematic humiliation by her gaolers, Honor's future has become both bleak and short. Yet bad as things look, they're about to get worse . . . for the Peeps. About the Honor Harrington Series: ." . . everything you could want in a heroine.... Excellent ... plenty of action."--Science Fiction Age "Brilliant Brilliant Brilliant "--Anne McCaffrey "Compelling combat combined with engaging characters for a great space opera adventure."--Locus "Weber combines realistic, engaging characters with intelligent technological projection . . . Fans of this venerable space opera will rejoice . . ."--Publishers Weekly
Baen, 9781481482998, 496pp.
Publication Date: January 2, 2018
About the Author
With over eight million copies of his books in print and thirty titles on the New York Times bestseller list, David Weber is the science fiction publishing phenomenon of the new millennium. In the hugely popular Honor Harrington series, the spirit of C.S. Forester's Horatio Hornblower and Patrick O'Brian's Master and Commander lives on--into the galactic future. Books in the Honor Harrington and Honorverse series have appeared on fourteen best-seller lists, including those of The Wall Street Journal, The New York Times, and USA Today. While Weber is best known for his spirited, modern-minded space operas, he is also the creator of the Oath of Swords fantasy series and the Dahak saga, a science fiction and fantasy hybrid. Weber has also engaged in a steady stream of bestselling collaborations including his Starfire series with Steve White, which produced the New York Times bestseller The Shiva Option among others. Weber's collaboration with alternate history master Eric Flint led to the bestselling 1634: The Baltic War, and his planetary adventure novels with military science fiction ace and multiple national best-seller John Ringo includes the blockbusters March to the Stars and We Few. Weber's collaboration with Linda Evans produced the bestselling Multiverse series. David Weber makes his home in South Carolina with his wife and children.
or
Not Currently Available for Direct Purchase