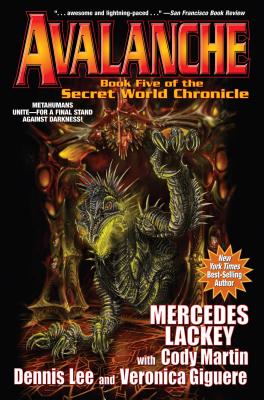 Avalanche
The Secret World Chronicles
Hardcover

* Individual store prices may vary.
Description
From New York Times best-seller and science fiction and fantasy mistress of adventure Mercedes Lackey, Book #5 in the pulse-pounding SECRET WORLD saga of modern-day humans with superpowers.

Ultima Thule has been destroyed—but somehow the Thulians mounted an even bigger force to destroy Metis. The Metisians that escaped the carnage and destruction of their secret city now must somehow find somewhere safe to go—without getting snapped up by various world governments. And now the Thulians have changed their tactics to "blitz guerilla warfar," sending wave after wave of their ships and troops to attack vulnerable targets all over Earth, with no clue for ECHO as to where these things are coming from. John Murdock and The Seraphym have become a force of nature, but they can't be everywhere at once, and if they were regarded with suspicion before, now they are regarded by ECHO's allies with fear as well.

You could say "things can't get worse."

You would be wrong.

Red Djinni's past is about to catch up with him.

So is Victoria Victrix's.

The heroes of ECHO and CCCP have to save the world. But first, they have to save each other. And the avalanche has begun.

About World Divided, Book 2 in the Secret World Chronicle:

"[C]omes together seamlessly. . .an awesome and lightning-paced story: read it on a day when you will not have to put it down."–San Francisco Book Review

About Mercedes Lackey:

"With [Mercedes Lackey], suspense never lags..." –Kliatt

The Secret World Chronicle
Invasion
World Divided
Revolution
Collision
Baen, 9781481483223, 704pp.
Publication Date: August 7, 2018
About the Author
Mercedes Lackey is the New York Times best-selling author of the Bardic Voices series and the Serrated Edge series (both Baen), the Heralds of Valdemar series, and many more. She's the coauthor of the contemporary meta-hero SF series The Secret World Chronicle. Among her popular Baen titles are The Fire Rose, The Lark and the Wren, and also The Shadow of the Lion and Burdens of the Dead with Eric Flint and Dave Freer. She lives in Oklahoma.

Cody Martin is a coauthor with Mercedes Lackey of three other books in the metahero saga, The Secret World Chronicle including entries Invasion, World Divided, Revolution, and Collision. He is an avid gamer, but spends his extra time chained to a computer, writing. Originally from Scottsdale, Arizona, he currently resides in Florida.

Dennis Lee was born in Seoul, Korea and grew up in Canada. He has a degree in pharmacology and is a cell biologist when not writing.

Veronica Giguere started off as the voice artist for the Secret World Chronicle podcasts then quickly proved her writing chops and was taken on as a series coauthor. Veronica remains active as a voice talent. An educator with a background in mathematics and ocean engineering, she has lent her voice to various research and campus promotional endeavors. She makes her home in Florida.
or
Not Currently Available for Direct Purchase