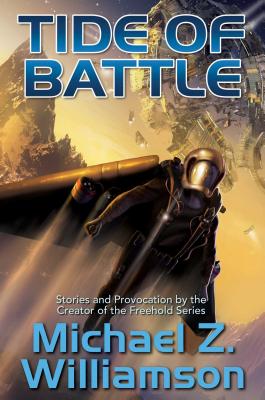 Tide of Battle
Paperback

* Individual store prices may vary.
Other Editions of This Title:
Mass Market (7/30/2019)
Description
Michael Z. Williamson returns with his second collection of short fiction, essays, and provocations. Sure to thrill, entertain, and scandalize.

Collected short fiction from multiple bestseller Michael Z. Williamson. After a brutal car crash, a disabled young man beats all odds to pursue his dream of crewing the first starship. Outnumbered and outgunned, a Freehold warship must use guile, expert maneuvering and sheer courage to survive a pursuing UN fleet. Meanwhile, other Freeholders resort to terrifying psyops to destroy their invaders' morale. A family learns that their patriarch isn't as crazy as they thought when a zombie uprising actually happens. A young girl must use her knowledge of elementals and spirit beings to protect a king who is unaware of the threats against him. In an alternate Bronze Age, the descendants of dinosaurs fight with sentient felinoids for territory and survival. Humans reduced to cowering in caves find a most unlikely weapon against their alien invaders.

With cutting satire on classic poetry and modern movies, a no-holds-barred lambast of several beloved firearms and their fan clubs, Williamson concludes with more of his Inappropriate Cocktail recipes, frequently both delicious and outrageously snarky, commemmorating celebrities, events and cultural memes.

About Michael Z. Williamson:
"A fast-paced, compulsive read . . . will appeal to fans of John Ringo, David Drake, Lois McMaster Bujold, and David Weber."—Kliatt

"Williamson's military expertise is impressive."—SF Reviews

Novels of Michael Z. Williamson's Freehold Universe:

Freehold series
Freehold
The Weapon
The Rogue
Contact with Chaos
Angeleyes
Freehold: Forged in Blood

Ripple Creek series
Better to Beg Forgiveness . . .
Do Unto Others . . .
When Diplomacy Fails . . .

Standalone
A Long Time Until Now
Baen, 9781481483360, 384pp.
Publication Date: July 3, 2018
About the Author
Michael Z. Williamson is retired military, having served twenty-five years in the U.S. Army and the U.S. Air Force. He was deployed for Operation Iraqi Freedom and Operation Desert Fox. Williamson is a state-ranked competitive shooter in combat rifle and combat pistol. He has consulted on military matters, weapons, and disaster preparedness for Discovery Channel and Outdoor Channel productions, and is editor-at-large for SurvivalBlog, which has 300,000 weekly readers. In addition, Williamson tests and reviews firearms and gear for manufacturers. Williamson's books set in his Freehold Universe include Freehold, The Weapon, The Rogue, Better to Beg Forgiveness . . ., Do Unto Others . . ., and When Diplomacy Fails . . .. He is also the author of time-travel novel A Long Time Until Now, as well as The Hero—the latter written in collaboration with New York Times best-selling author John Ringo. Williamson was born in England, raised in Liverpool and Toronto, Canada, and now resides in Indiana with his wife and children.
or
Not Currently Available for Direct Purchase