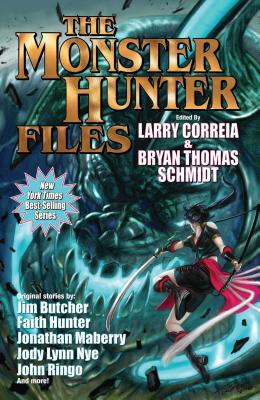 The Monster Hunter Files (Mass Market)
Baen, 9781481483520, 464pp.
Publication Date: September 25, 2018
Other Editions of This Title:
Hardcover (10/3/2017)
MP3 CD (12/12/2017)
* Individual store prices may vary.
Description
STORIES SET IN THE BEST-SELLING MONSTER HUNTER INTERNATIONAL SERIES. New stories from Larry Correia, Jim Butcher, John Ringo, Jody Lynn Nye, Faith Hunter, Brad R. Torgersen, and many more!

For well over a century, Monster Hunter International has kept the world safe from supernatural threats small and large—and in some cases very, very large. Now, join us as MHI opens their archives for the first time. From experienced Hunters on their toughest cases, to total newbies' initial encounters with the supernatural, The Monster Hunter Files reveals the secret history of the world's most elite monster fighting force.

Discover what happened when Agent Franks took on the Nazis in World War Two. Uncover how the Vatican's Combat Exorcists deal with Old Ones in Mexico. And find out exactly what takes place in a turf war between trailer park elves and gnomes. From the most powerful of mystical beings to MHI's humble janitor, see the world of professional monster hunting like never before.

Featuring seventeen all new tales based on Larry Correia's bestselling series, from New York Times best-selling authors Jim Butcher, John Ringo, Jessica Day George, Jonathan Maberry, Faith Hunter, and many more.

Contributors:

Larry Correia
Jim Butcher
Mike Kupari
Jessica Day George
John C. Wright
Maurice Broaddus
Brad R. Torgersen
Faith Hunter
Jody Lynn Nye
Quincy J. Allen
Alex Shvartsman
Kim May
Steve Diamond
John Ringo
Bryan Thomas Schmidt & Julie C. Frost
Sarah A. Hoyt
Jonathan Maberry

About Larry Correia and the Monster Hunter International series:

"[E]verything I like in fantasy: intense action scenes, evil in horrifying array, good struggling against the darkness, and most of all people—gorgeously flawed human beings faced with horrible moral choices that force them to question and change and grow."—Jim Butcher on Son of the Black Sword

"[A] no-holds-barred all-out page turner that is part science fiction, part horror, and an absolute blast to read."—Bookreporter.com

"If you love monsters and action, you'll love this book. If you love guns, you'll love this book. If you love fantasy, and especially horror fantasy, you'll love this book."—Knotclan.com

"A gun person who likes science fiction—or, heck, anyone who likes science fiction—will enjoy [these books] . . . The plotting is excellent, and Correia makes you care about the characters . . . I read both books without putting them down except for work . . . so whaddaya waitin' for? Go and buy some . . . for yourself and for stocking stuffers."—Massad Ayoob

"This lighthearted, testosterone-soaked sequel to 2009's Monster Hunter International will delight fans of action horror with elaborate weaponry, hand-to-hand combat, disgusting monsters, and an endless stream of blood and body parts."—Publishers Weekly on Monster Hunter Vendetta

About Mission: Tomorrow, edited by Bryan Thomas Schmidt:

"This themed anthology . . . will appeal to a wide range of readers, who will appreciate the diversity of stories . . . a solid introduction to a classic genre."—Kirkus

"Editor Schmidt adds grandmasters to a mix of newer established names and balances the tragic with the humorous."—Publishers Weekly

About Shattered Shields, edited by Jennifer Brozek and Bryan Thomas Schmidt:

"In this well-built anthology, seventeen original stories cut to the heart of military fantasy, diving directly into the most exciting moments of dramatic bravery, grand battles, and life-changing heroism. . . . Readers who prefer to cut straight to the action, but want more depth than pure hack-and-slash, will find these offerings appealing."—Publishers Weekly

"An inventive and thought-provoking set of tales that capture the bravery and terrors of battle. Carries the banner of military fantasy proudly."—John Marco, author of The Bronze Knight Series

About The Raygun Chronicles, edited by Bryan Thomas Schmidt:

"Fans of sf should enjoy this stylistically varied homage to a genre as old as the fiction . . . "—Library Journal

The Monster Hunter Memoirs series by Larry Correia and John Ringo:
Monster Hunter Memoirs: Grunge
Monster Hunter Memoirs: Sinners

The Monster Hunter series by Larry Correia:
Monster Hunter International
Monster Hunter Vendetta
Monster Hunter Alpha
Monster Hunter Legion
Monster Hunter Nemesis
About the Author
Larry Correia is an award-winning competitive shooter, a movie-prop-gun master, and was an accountant for many years. He is the creator of the Wall Street Journal and New York Times best-selling Monster Hunter series, with first entry Monster Hunter International, as well as urban fantasy hardboiled adventure saga, the Grimnoir Chronicles, with first entry Hard Magic, and epic fantasy series The Saga of the Forgotten Warrior, with first entry Son of the Black Sword. Correia lives in Utah with his wife and family.

Bryan Thomas Schmidt is an author and a Hugo-nominated editor of adult and children's speculative fiction. His debut science fiction novel was The Worker Prince, which received Honorable Mention on Barnes & Noble's Year's Best SF of 2011, and was followed by sequels The Returning and The Exodus. His children's books include 102 More Hilarious Dinosaur Jokes For Kids and Abraham Lincoln: Dinosaur Hunter—Land Of Legends. Schmidt has edited edited anthologies Space Battles: Full Throttle Space Tales #6, Beyond The Sun, Raygun Chronicles: Space Opera For a New Age, Galactic Games, and, with Jennifer Brozek, coedited military high fantasy original anthology, Shattered Shields. Schmidt hosts #sffwrtcht (Science Fiction & Fantasy Writer's Chat) Wednesdays at nine p.m. ET on Twitter.
or
Not Currently Available for Direct Purchase