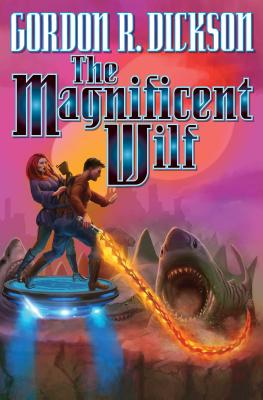 The Magnificent Wilf
Paperback

* Individual store prices may vary.
Description
A classic of humorous science fiction from SF legend Gordon R. Dickson, winner of three Hugo awards, a Nebula award, and an inductee into the Science Fiction Hall of Fame.

We are not alone in the galaxy—not by a longshot. And extra-solar civilization has come calling. Now, Tom Parent, his linguist wife Lucy, and their Great Dane Rex must travel the stars as ambassadors of Earth. Their mission: to prove Humanity deserves to be considered equal to the scores of established alien cultures. Earth's acceptance hinges on building good relationships with these aliens, and the genteel Parents seem the perfect candidates for wooing extra-terrestrials.

Of course, they'll have to tread carefully among these brave new worlds that have such creatures in them! Soon what starts as a straight-forward goodwill tour is complicated when Lucy is mistaken for a Wilf—a lifeform that manipulates others toward moral behavior—and Tom accidentally joins a galactic council when he sits in the wrong chair. On top of that, their faithful hound Rex starts talking. And maybe it's best if we don't mention the singing gelatin-mold-like alien they have to rescue from becoming dessert.

It's action and adventure for Tom, Lucy, and Rex, and a laugh-riot for the reader in this classic novel from Science Fiction master Gordon R. Dickson!

About Gordon R. Dickson:

"Dickson is one of SF's standard-bearers."—Publishers Weekly

"Dickson has a true mastery of pacing and fine understanding of human beings."—Seattle Post Intelligencer

"A masterful science fiction writer."—Milwaukee Journal
Baen, 9781481483636, 240pp.
Publication Date: December 4, 2018
About the Author
Gordon R. Dickson (1923-2001) was one of the most prolific and popular science fiction writers of the 20th Century, frequently nominated for the Hugo and Nebula Awards and winning three Hugos and one Nebula. He also received the Jupiter, August Derleth, and Skylark Awards, and was inducted into the Science Fiction Hall of Fame. He published nearly fifty solo novels, as well as several collaborations with such SF masters as Poul Anderson, Ben Bova, Keith Laumer, and Harry Harrison, and over one hundred and fifty short stories, novelettes, and novellas. His most popular works were the novels and shorter pieces in the Childe cycle (which included the Dorsai stories). Also very popular was his Dragon series of fantasy novels, which began with the award-winning The Dragon and the George, and continued for a total of nine novels, and the humorous Hoka stories, co-authored with Poul Anderson, soon to be available again from Baen Books.
or
Not Currently Available for Direct Purchase