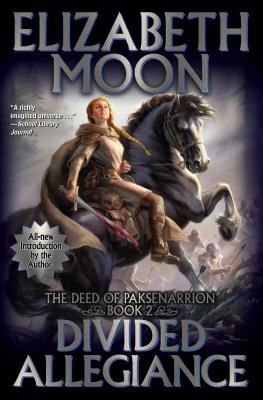 Divided Allegiance
Paperback

* Individual store prices may vary.
Other Editions of This Title:
MP3 CD (7/15/2010)
MP3 CD (8/25/2015)
Compact Disc (7/15/2010)
Description
The Compton Crook Award winning Deeds of Paksenarrion series continues as Paksenarrion continues her journey from sheepfarmer's daughter to warrior hero. Includes a new introduction by author Elizabeth Moon.

FROM SHEEPFARMER'S DAUGHTER TO WARRIOR

Once a sheepfarmer's daughter, now a seasoned veteran, Paksenarrion has proven herself a fighter. Years with Duke Phelan's Company taught her weaponry, discipline, and how to react as part of a military unit.

Now, though, Paks feels spurred to a solitary destiny. Against all odds she is accepted as a paladin-candidate by the fellowship of Gird. Years of study will follow, for a paladin must be versed in diplomacy and magic as well as the fighting arts. But before she is fully trained, Paks is called on her first mission: to seek out the fabled stronghold of Luap far to the west. The way is long, the dangers many—and not even the Marshal-General of Gird can say whether glory or ruin awaits.

Features an all-new introduction by the author!

About Elizabeth Moon:

"Excellent plotting and characters support the utterly realistic action sequences: swift, jolting, confusing, and merciless. It's a corker!"—Kirkus Reviews

"Moon has created a richly imagined universe of different cultures, replete with intriguing characters and the sense of unlimited possibility that characterizes the most appealing science fiction."—School Library Journal

"Rip-roaring action and intriguing science and tactics . . . [a] grand space opera tour de force."—Publishers Weekly

"[T]he first work of high heroic fantasy I've seen that has taken the work of Tolkien, assimilated it totally and deeply and absolutely, and produced something altogether new and yet incontestably based on the master... [Moon's] military knowledge is impressive, her picture of life in a mercenary company most convincing. I'm deeply impressed."—Judith Tarr
Baen, 9781481483728, 480pp.
Publication Date: January 1, 2019
About the Author
New York Times best-selling author and former Marine Elizabeth Moon has written many novels, including the Paksenarrion fantasy trilogy (available from Baen as The Deed of Paksenarrion and also as separate books), the Heris Serrano space adventure series (the first three novels of which have been combined as Heris Serrano), and Remnant Population, which was a Hugo Award finalist. For Del Rey, she has written Command Decision, Engaging the Enemy, Marque and Reprisal, Trading in Danger, and the Nebula Award winner The Speed of Dark. After earning a degree in history from Rice University, Moon went on to obtain a degree in biology from the University of Texas, Austin.

When not writing, Moon enjoys photographing wildlife and native plants, singing in a choir, cooking for friends and family, drawing, reading, knitting, and lying in a hammock pretending to be plotting the next book. She and her husband subscribe to and read several science and medical journals (since they're not near any academic libraries.) She lives in Florence, Texas, with her husband and son.