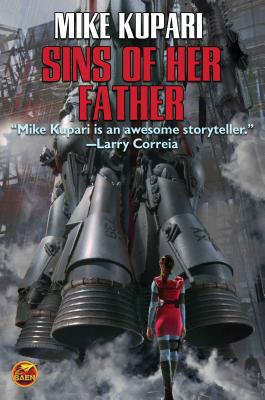 Sins of Her Father (Privateer Andromeda #2) (Mass Market)
Baen, 9781481483810, 448pp.
Publication Date: January 29, 2019
Other Editions of This Title:
Paperback (3/6/2018)
MP3 CD (6/12/2018)
* Individual store prices may vary.
Description
DRAGON AWARD NOMINEE. Privateer Captain Blackwood and the crew of the Andromeda are back in this swashbuckling sequel to Her Brother's Keeper.

THE RAZOR'S EDGE OF TYRANNY AND FREEDOM

THE EXILED LEADER: He was known as the Butcher of Jonasport. Zander Krycek made a choice that saved his world of Ithaca, but doomed his reputation and banished him to a planet far, far away.

THE EVIL EMPIRE: The Orlov Combine intends to swallow Ithaca in the same way they have devoured so many worlds, creating a "company planet" where the residents are little better than slaves.

THE DAUGHTER: Adisa Masozi never knew her father, but was taught he was a monster. But now she must reclaim her father's legacy of leadership. And the place to start is with the mysteri- ous aliens who also inhabit Ithaca.

THE NATIVES: The saurians have held themselves aloof from galactic politics for eons in order to regain the strength to exact their revenge on an ancient foe. They have the means to resist the Combine. But will they?

THE PRIVATEER: Enter privateer Captain Catherine Blackwood and her ship, the Andromeda. She and her crew will have to navigate assassination attempts, warring factions, and civil unrest. But Catherine has made a promise, and the freedom of a world hangs in the balance!

Praise for the prequel, Her Brother's Keeper:
"After co-writing Dead Six and Swords of Exodus with Larry Correia, Kupari makes his solo debut with this space opera that is bound to attract fans of Mike Shepherd's Kris Longknife series or Elizabeth Moon's Vatta's War books. An excellent choice for both teen and adult sf readers." —Library Journal

"Mike Kupari is an awesome storyteller."—Larry Correia
About the Author
Mike Kupari is the author of debut science fiction novel Her Brother's Keeper, as well as coauthor, with Larry Correia, of the best-selling Dead Six military adventure series including Dead Six, Swords of Exodus, and Alliance of Shadows. Mike grew up in Michigan's Upper Peninsula and enlisted at the age of seventeen. Mike is recently returned from his second active duty overseas with the U.S. Air Force, where he was an Explosive Ordnance Disposal Technician in the US Air Force. Mike also served six years in the Army National Guard. He has worked as a security contractor with several firms, did a tour in Southwest Asia with a private military company, and is an NRA certified firearms instructor.
or
Not Currently Available for Direct Purchase