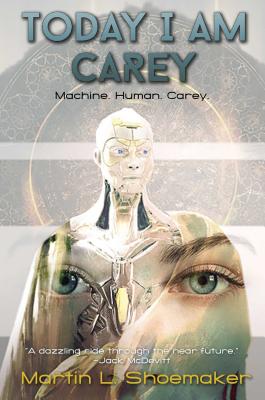 Today I Am Carey
Paperback

* Individual store prices may vary.
Other Editions of This Title:
Digital Audiobook (3/7/2019)
Mass Market (3/31/2020)
Description
REMARKABLE DEBUT NOVEL FROM CRITICALLY ACCLAIMED AUTHOR MARTIN L. SHOEMAKER. Shoemaker proves why he has consitently been praised as one of the best story writers in SF today with this touching, thoughtful, action-packed debut novel, based on his award-winning short story Today I Am Paul.

TODAY

Mildred has Alzheimer's. As memories fade, she acquires the aid of a full-time android to assist her in everyday life. Carey. Carey takes care of Mildred, but its true mission is to fill in the gaps in Mildred's past. To bring yesterday into today by becoming a copy. But not merely a copy of a physical person. A copy from the inside out.

I AM

After Mildred passes, Carey must find a new purpose. For a time, that purpose is Mildred's family. To keep them safe from harm. To be of service. There is Paul Owens, the overworked scientist and business leader. Susan Owens, the dedicated teacher. And Millie, a curious little girl who will grow up alongside her android best friend. And Carey will grow up with her. Carey cannot age. But Carey can change.

CAREY

Carey struggles. Carey seeks to understand life's challenges. Carey makes its own path. Carey must learn to live. To grow. To care. To survive. To be.

Praise for Today I Am Carey:
"Kindness, love, and compassion make Carey an empathetic character through which to view Shoemaker's complex, beautiful world."—Publishers Weekly

". . . takes readers on a journey of self-discovery, coming of age, and ultimately life itself. . . . Carey's development as a character is fascinating. VERDICT This exploration of artificial life in the vein of Isaac Asimov's I, Robot provides fresh insight into the human experience."—Library Journal

"Shoemaker's story of an artificial life coming to terms with its own emotional world finds its place among the long and varied tradition of explorations of robot–human relations. . . . Recommended for any reader, genre or otherwise, looking for a pleasant and engaging read."—Booklist

"Martin Shoemaker proves conclusively that while a science fiction novel must have the trappings of science fiction, it is at its strongest when it is about people, even an artificial (but emotional) person named Carey."—Mike Resnick

"A dazzling ride through the near future. I enjoyed it thoroughly. I've never seen anything remotely like it."—Jack McDevitt

"Martin Shoemaker is a rare writer who can handle the challenges of dealing with future technology while touching the human heart. This is a must-read!"—David Farland, New York Times Best-selling Author

"Carey is one of the most delightful robots to come along in a while, and Today I Am Carey is a fine addition to science fiction's century-long conversation about our mechanical servants."—Analog

"Today I Am Carey is a rare thought-provoking novel"—The Daily News of Galveston County

"….this book is like an onion. As time passes, the world expands from the center, the core of the onion, moving from layer to layer, new stratum larger than the last. Each richly detailed…Recommended for fans of Asimov, classic science fiction, and anyone who just enjoys a well-told tale."—Future Science Fiction Digest (Recommended fot book fo the Month)

Praise for the work of Martin L. Shoemaker:

"Martin Shoemaker's 'Black Orbit' is a more conventional Analog adventure, and a very good example of such . . . a really solid story." — Rich Horton, Locus Online

"['Bookmark'] is an exceptional example of how to discuss deep moral and philosophical issues while maintaining a tight narrative that brings the reader along. This story will be added to the required readings for my SF classes. – Robert L Turner III, Tangent Online
Baen, 9781481483841, 336pp.
Publication Date: March 5, 2019
About the Author
Martin L. Shoemaker is a programmer who writes on the side...or maybe it's the other way around. He told stories to imaginary friends and learned to type on his brother's manual typewriter even though he couldn't reach the keys. (He types with the keyboard in his lap still today.) He couldn't imagine any career but writing fiction...until his algebra teacher said, "This is a program. You should write one of these."
or
Not Currently Available for Direct Purchase